Dessa acquires batch of UWC cars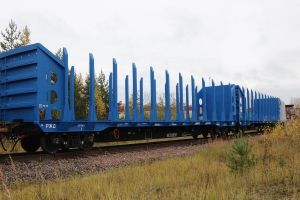 (Posted on 28/04/20)
Research and production corporation "United Wagon Company", the largest producer of freight cars in Russia , and Dessa, a leasing company on the transportation services market, have signed an agreement on the supply of an additional batch of new generation flat cars (60-foot) for the transportation of timber freight. The rolling stock will be delivered to Dessa by the end of May this year. The latest deal will raise the number of Tikhvin-produced cars in the leasing company's fleet to 65 units.
The deal once again involves the purchase of the model 13-6895 flat car (60-foot) for the transportation of timber products. The rolling stock is noted for its higher loading capacity of 72.5 t and increased body volume of 155 m3. The Tikhvin-produced flat car can be loaded with up to 40% more freight compared with equivalent models available on the market, while remaining eligible for the short wheelbase tariff, thanks to the loading length of 18,850 mm and other technical solutions. The car's design reduces unused dimensional volumes and ensures that the car can be loaded without a 'freight cap'. The flat car is equipped with model 18-9855 bogies with a 25-t axle load, which have improved operational reliability, increasing the maintenance interval up to 1 million km (or eight years). The flat car has a service life of 40 years.
Vyacheslav Pogudin, CEO of Dessa: "The railway rolling stock leasing market anticipates tough times ahead, and the drop in demand for universal cars is already being felt. In spite of this, however, specialized fleets are emerging as a promising segment, primarily on bogies with a 25-t axle load. There are several car-building companies currently producing innovative models. We began our cooperation with United Wagon Company in 2017, and so we are well acquainted with the new generation Tikhvin-produced cars. The same goes for our customers, including Sodex, who will be the recipient of the acquired rolling stock. We are delighted with the car's performance, which is why have opted for UWC once again."
UWC is a leading railway holding focused on design, manufacture and maintenance of freight cars UWC's annual production capacity is up to 22,000 freight cars and 90,000 tons of railway castings.
Latest News
(Posted on 24/03/23)
Bruks Siwertell has secured an order for a next-generation Siwertell road-mobile ship unloader, which... Read more
(Posted on 20/03/23)
Thordon Bearings is supplying its grease-free, self-lubricating ThorPlas-Blue bearing material to a... Read more
(Posted on 20/03/23)
French water treatment specialist BIO-UV Group has appointed Laurent-Emmanuel Migeon as its new Chairman... Read more
(Posted on 07/03/23)
With Wärtsilä's CII Dashboard, Anglo-Eastern is now able to make better informed decisions... Read more
(Posted on 07/03/23)
Bruks Siwertell has completed the commissioning of two large-scale Siwertell ST 790-D-type ship unloaders... Read more
(Posted on 28/02/23)
A consortium including technology group Wärtsilä has secured European Union funding to develop... Read more
(Posted on 28/02/23)
Bruks Siwertell has received an order for a next-generation Siwertell road-mobile ship unloader from... Read more
(Posted on 24/02/23)
Global Survival Technology solutions provider Survitec has introduced a new, formalised pre-inspection... Read more
(Posted on 24/02/23)
The slightest deviation in the machining, polishing, and finishing of ships' propeller blades... Read more
(Posted on 20/02/23)
Bühler expanded its business and improved profitability in an uncertain and volatile business environment... Read more