DESMI Nigeria is established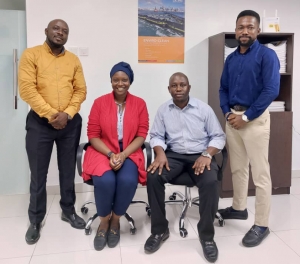 (Posted on 16/05/22)
One of Denmark's oldest companies has sold its solutions to Nigeria for more than 20 years – and now it has taken further steps into the Nigerian market to being even closer to its customers and partners.
DESMI was founded in 1834 and specializes in the development, manufacturing, sale and service of pumps and pumping solutions including a wide range of environmental equipment for oil spill, seaweed and clean waterways. DESMI solutions are sold to more than 150 countries via a network of subsidiaries and distributors on six continents.
Speaking to Leslie P. Andrews, Managing Director of DESMI Africa, you can feel the enthusiasm and upbeat mood. This is another solid step for the DESMI Group into the African market, which has been served and supplied with solutions from DESMI for decades.
"We are happy. The Nigerian market is a huge market to service, and with the increasing demand for our solutions both within oil spill and pumps, it makes perfect sense to have our presence, team, and knowledge, locally" says Mr. Andrews.
DESMI Nigeria (Official company name: DESMI Flow Technology W.A. Limited) will be located in Lagos, and the young start-up team consists of Office Manager Najeeba Abdulmajeed Owolabi and the sales team Philbertus Mujuni, Collins Ugochukwu Afoaku and Elijah Sobalaje Ogunniran. The sales team has used the last year to support local customers preparing for the strategic move into one of Africa's largest economies.
"Being here locally, with our own office, is a milestone, and our goals have been set. We have high expectations! We want to be one of the most preferred brands with our flow technology solutions within oilspill response, marine debris trash, engine room pumps for marine and utilities, and much more. An exciting
future is ahead of us in Nigeria" concludes Mr. Andrews.
Latest News
(Posted on 19/09/23)
ClassNK has conducted third-party certification for the CO2 emissions reductions of "JGreeX&trade... Read more
(Posted on 12/09/23)
Charterers can save hundreds of thousands of dollars of unnecessary demurrage costs by drilling down... Read more
(Posted on 08/09/23)
Nippon Kaiji Kyokai (ClassNK) has joined the major classification societies to amend its rules relating... Read more
(Posted on 08/09/23)
On behalf of SLPLUS Holding and based on their trust in Feyz Group's operational capabilities,... Read more
(Posted on 08/09/23)
Leading corporate wellbeing provider OneCare Solutions (OCS) has launched the OneCare Solutions Mobile... Read more
(Posted on 04/09/23)
With CCS-Ready scrubbers now being sold at pace, Wärtsilä's studies across a range of... Read more
(Posted on 04/09/23)
German Ship Repair Jamaica Limited (GSRJ), a private joint venture of German, Turkish and Jamaican investors... Read more
(Posted on 28/08/23)
The 'clipboard, pen and paper' approach to creating Statement of Facts (SoF) documents is... Read more
(Posted on 21/08/23)
KVH Industries, Inc. has announced the completion of a three-year renewal of its satellite services... Read more
(Posted on 14/08/23)
KVH has announced its membership in ISWAN (The International Seafarers' Welfare and Assistance... Read more