Delivery of modern capesize bulker adds capacity for Tomini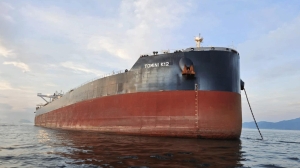 (Posted on 18/08/23)
Tomini Shipping, a world class dry bulk ship owner, has reached yet another milestone in their expansion journey with the acquisition of Tomini K12.
This Chinese-built capesize bulk cargo ship of 208,286 DWT will be the largest carrier in their existing fleet.
The maritime industry is deeply engrained in Tomini Shipping's cultural heritage. The business is wholly owned by the Shaikh family, which for more than 70 years has been involved in every aspect of the shipping market, including ownership and technical management, whilst commercial management is handled through their partners Alpina Chartering ApS in Denmark.
The addition of Tomini K12, formerly known as MP The Vrabel, brings Tomini's fleet to a total of 28 vessels with an average age of 6 years.
This acquisition is well-aligned with the Company's growth strategy of enhancing its fleet composition. Specifically, increasing the cargo capacity per vessel, and reducing emissions on a per deadweight ton basis.
Tomini Shipping has a dedicated crew management centers in Mumbai and Karachi and is committed to the highest levels of environmental, quality and health and safety management. They are a member of The International Maritime Employer's Council (IMEC), Baltic and International Maritime Council (BIMCO) and Emirates Shipping Association.
The group is led by Numair Shaikh, Chief Executive Officer, and Adam Shaikh, Head of Sale & Purchase, who represent the fourth generation of the Shaikh Family.
Latest News
(Posted on 07/12/23)
ClassNK has issued Approvals in Principle (AiPs) for four cutting-edge ship designs developed by Marine... Read more
(Posted on 07/12/23)
A smartship partnership bringing together ship management company Laskaridis Shipping, digital technology... Read more
(Posted on 07/12/23)
ABB has launched a new digital tool allowing shipowners, operators and designers to estimate the emission... Read more
(Posted on 03/12/23)
The Dry Bulk and LNG segments have borne the brunt of restricted transits, particularly due to their... Read more
(Posted on 03/12/23)
Columbia Shipmanagement (CSM) is set to further boost operational efficiency on its vessels, as crew... Read more
(Posted on 26/11/23)
Shi.E.L.D. Services has selected Spinergie as its preferred digitized solution provider to monitor and... Read more
(Posted on 26/11/23)
Thousands of cadets and trainees in India will benefit from in-depth wellness training and support thanks... Read more
(Posted on 17/11/23)
As shipping continues its journey to decarbonisation, INTERCARGO will host a special forum in Athens... Read more
(Posted on 13/11/23)
INTERCARGO was deeply saddened and concerned to hear of the reported appalling missile attack on the... Read more
(Posted on 13/11/23)
A new-look Wellness at Sea Awareness Campaign for seafarers, their families and shore staff that &ldquo... Read more