Danelec Marine partners with ioCurrents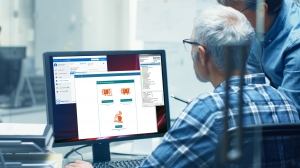 (Posted on 06/05/21)
Danelec Marine's DanelecConnect ship-to-shore data solution and cloud-based infrastructure has changed the industry by providing ship owners and managers unprecedented access to their vessel data. By partnering with ioCurrents, a pioneer in real-time remote vessel analytics and artificial intelligence, the maritime industry is poised to take advantage of the latest technology innovations to improve fleet operations.
ioCurrents is an innovator in maritime data analytics using machine-learning and artificial intelligence (AI) to map data gathered from onboard sensors which monitor the performance of engines, generators, fluid levels, GPS location and other critical equipment. The company then presents this live data through the MarineInsight Platform, which compares real-time performance against equipment manufacturers' optimal operating parameters, automates manual reports for compliance requirements, as well as tracks and recommends efficiency gains available across the rest of a company's operation. This enables crew or onshore personnel to make informed decisions based on fact rather than guesswork.
"Everyone at ioCurrents is thrilled to partner with Danelec Marine, as this enables the industry to start taking action on the immense amounts of available data, that until now, has been cumbersome to navigate. ioCurrents believes in enabling you to do more: reduce time on manual tracking and reporting, build better maintenance plans, save money on voyages; and all of this hinges on your vessel's behaviours. Danelec collects that data today, and ioCurrents can turn that into actionable answer sets; it is a great partnership," says Jon Best, Director of Business Development for ioCurrents.
Danelec Marine is an established global supplier of operational technology including Voyage Data Recorders (VDR) and Electronic Chart Display & Information Systems (ECDIS). Leveraging its experience as the leading global provider of VDRs, Danelec Marine has emerged as a front-runner in the development of the maritime Internet of Things (IoT), with solutions including DanelecConnect already unlocking significant cost and operational efficiencies for its customers.
"Combined with our DanelecConnect data solution, the data analytics services provided by ioCurrents will help our clients make sense of all the huge amounts of data gathered from their vessels and enable them to plan ahead with confidence," said Per Villemoes, VP Sales and Business Development DanelecConnect, Danelec Marine.
ioCurrents was founded in 2015 by IoT and sensor data experts Cosmo King and Bhaskar Bhattacharyya, who set themselves the task of developing a platform with applications that could gather and analyse large amounts of data on a vessel. With their collective extensive experience in automation, cloud computing, machine learning and artificial intelligence, and their passion for maritime, King and Bhattacharyya developed the foundation for their artificially intelligent platform called MarineInsight.
Latest News
(Posted on 26/11/23)
VIKING Life-Saving Equipment, a global leader in maritime safety solutions, is launching an innovative... Read more
(Posted on 26/11/23)
Damen's client Gerdes Green has received a subsidy from the German Government for the investment... Read more
(Posted on 17/11/23)
A first of its kind training course for the Middle East has been held to teach mariners about the basic... Read more
(Posted on 13/11/23)
Wärtsilä ANCS, part of technology group Wärtsilä, has delivered to Seaspan, a marine... Read more
(Posted on 31/10/23)
The flag raising ceremony for three new ASD Tugs has taken place in Gdansk, Poland. In the presence... Read more
(Posted on 26/10/23)
A new immersive crane simulator that can recreate high-risk scenarios without putting drivers or other... Read more
(Posted on 23/10/23)
Vesto Ropes, a global leader in innovative steel wire-rope solutions, has announced a strategic partnership... Read more
(Posted on 23/10/23)
Bedeschi S.p.a. has been awarded a contract for the design and supply of a new longitudinal storage... Read more
(Posted on 18/10/23)
Rhenus Maritime Services (RMS) is adding a new coastal vessel to its fleet in the shape of the RMS Ruhrort... Read more
(Posted on 18/10/23)
Dualog, a leading maritime software provider, has introduced a major enhancement to the Dualog Drive... Read more