Damen signs Bangladesh MoU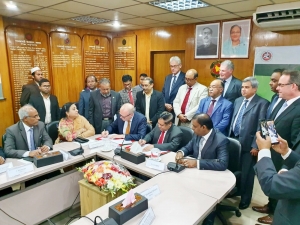 (Posted on 21/01/20)
On 14th January, Gentium and Damen Shipyards Group signed a memorandum of understanding (MoU) with the Ministry of Industry of Bangladesh in Dhaka. Also present at the signing ceremony were representatives of the Netherlands Embassy in Bangladesh, who are supporting Gentium-Damen in their undertaking.
The goal of the MoU is to establish and develop a shipbuilding and ship repair industry in the Bangladesh. The aim is to build ships in Bangladesh, for Bangladesh, with a long-term view of serving export markets. The partners in the MoU will undertake a number of tasks in this direction.
First amongst these will be the establishment of a shipbuilding and repair facility built to globally recognised environmental and building standards. The standard of the facility will be sufficient for the construction and delivery of seagoing vessels able to compete in the global marketplace.
As part of their role in the MoU, Gentium-Damen will facilitate a transfer of technology and knowledge to help Bangladeshi personnel develop the skills required to serve the international maritime industry. As a result of this, the MoU will create significant training and employment opportunities within Bangladesh.
Area Director Asia Pacific of Damen Shipyards Group Roland Briene, who signed the MoU on behalf of Damen, said, "We are very pleased to be participating in this MoU. Damen has a long track record of skills and knowledge transfer of which we are immensely proud. It is our philosophy and practice to help develop the shipbuilding and maritime industries in the countries in which we operate. This includes investing in the establishment of high quality facilities and equipment and the training of local personnel. Time and again we have witnessed this leading to the establishment of sustainable shipbuilding initiatives able to serve the global marketplace. We are very much looking forward to applying our experience, along with our partners Gentium and the Ministry of Industry, here in Bangladesh."
Damen Shipyards Group operates 36 shipbuilding and repair yards, employing 12,000 people worldwide. Damen has delivered more than 6,500 vessels in more than 100 countries and delivers around 175 vessels annually to customers worldwide.
Latest News
(Posted on 28/03/23)
The board of Oldendorff Carriers, has appointed Patrick Hutchins as the new President and CEO of the... Read more
(Posted on 28/03/23)
The Swedish Club is looking to the future with the expansion and restructuring of the Club's management... Read more
(Posted on 24/03/23)
One Sea has welcomeed Finnish start-up Groke Technologies as its new member, bringing additional expertise... Read more
(Posted on 24/03/23)
ClassNK has released "FAQs on the EU-ETS for Shipping", an overview and necessary preparation... Read more
(Posted on 20/03/23)
AXSMarine, a pioneer and market leader in the provision of advanced solutions for shipping professionals... Read more
(Posted on 20/03/23)
Shipzero is enabling transport and logistics companies to create transparency about their emissions... Read more
(Posted on 07/03/23)
The Isle of Man Ship Registry (IOMSR) has become an associate member of The International Association... Read more
(Posted on 07/03/23)
The wellbeing of crew members is becoming more important to shipping companies says leading catering... Read more
(Posted on 28/02/23)
Canada based Algoma Central Corporation has reported its results for the year ended 31 December, 2022... Read more
(Posted on 24/02/23)
Ukrainian seafarers have largely returned to international shipping thereby restoring balance in crew... Read more