Damen Shiprepair Curaçao welcomes Royals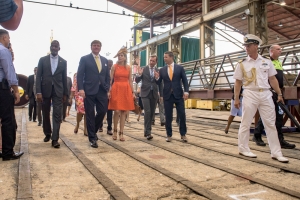 (Posted on 04/07/18)
His Royal Highness King Willem-Alexander and Her Royal Highness Queen Máxima have visited Damen Shiprepair Curaçao.
The Royal couple arrived by boat together with Damen Shiprepair & Conversion Managing Director Durk-Jan Nederlof. Before disembarking, they viewed the yard's two new floating docks that will be operational from September. These two docks, measuring 230x45 metres and 108x 23 metres respectively, represent a significant investment into the yard's infrastructure that is expected to have a positive knock-on effect on the local economy.
Lodewijk Franken, Managing Director of Damen Shiprepair Curaçao, then guided the Royal couple around the yard, speaking to numerous employees along the route. In discussing the development of the yard since Damen took over management last year, diverse subjects were covered.
"The main topics of conversation were training, education and investments to increase yard capacity – all illustrating the added value of the yard to the island of Curaçao," says Mr Franken referring to the in-house training programme that has been implemented at the yard.
"We are proud that the Royal couple took the time and effort to visit us here – it gives us an even greater impulse to continue our commercial and operational development."
Damen Shipyards Group operates 34 shipbuilding and repair yards, employing 10,000 people worldwide. Damen has delivered more than 6,000 vessels in more than 100 countries and delivers some 160 vessels annually to customers worldwide. Based on its unique, standardised ship-design concept Damen is able to guarantee consistent quality.
Damen's focus on standardisation, modular construction and keeping vessels in stock leads to short delivery times, low 'total cost of ownership', high resale values and reliable performance. Damen vessels are based on thorough R&D and proven technology.
Latest News
(Posted on 20/03/23)
AXSMarine, a pioneer and market leader in the provision of advanced solutions for shipping professionals... Read more
(Posted on 20/03/23)
Shipzero is enabling transport and logistics companies to create transparency about their emissions... Read more
(Posted on 07/03/23)
The Isle of Man Ship Registry (IOMSR) has become an associate member of The International Association... Read more
(Posted on 07/03/23)
The wellbeing of crew members is becoming more important to shipping companies says leading catering... Read more
(Posted on 28/02/23)
Canada based Algoma Central Corporation has reported its results for the year ended 31 December, 2022... Read more
(Posted on 24/02/23)
Ukrainian seafarers have largely returned to international shipping thereby restoring balance in crew... Read more
(Posted on 24/02/23)
The Chairs of the Round Table of International Shipping Associations met in Athens last week to renew... Read more
(Posted on 21/02/23)
AXSMarine, a leading provider of SaaS shipping software and data for decision making in the chartering... Read more
(Posted on 20/02/23)
Algoma Central Corporation and The CSL Group, who together form the CSL International Pool have announced... Read more
(Posted on 20/02/23)
Swiss marine power company WinGD has launched a pilot project for a new engine diagnostics solution... Read more