Damen Services and Mc Energy to collaborate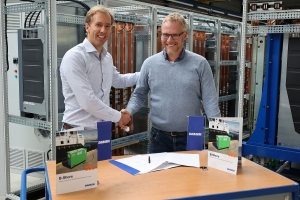 (Posted on 26/10/22)
Mc Energy and Damen Services have signed a collaboration agreement in Ridderkerk, the Netherlands. Together, these companies will bring an innovative shore power solution to the market.
Damen B-Shore offers the unique opportunity of connecting ships worldwide to local shore power safely and reliably. This leads to a significant reduction in emissions of greenhouse gasses and particulate matter and also saves fuel.
B-Shore can supply multiple voltages and switch between 50Hz and 60Hz networks. This means that every on-board network can be linked to a local network. B-Shore also absorbs any instability of the local grid and provides a safe separation between shore and ship, thus avoiding galvanic corrosion. It is also possible to connect a battery pack (energy storage) to the B-Shore in the event the shore power supply is too weak, unstable or otherwise restricted. B-Shore S125 can even supply multiple limited consumption units with shore power simultaneously. This prevents a lot of emissions and at the same time makes a B-Shore purchase financially attractive for potential customers.
The exclusive partnership agreement between Mc Energy and Damen Services covers the construction, sales, delivery and after-sales of B-Shore units. "B-Shore is a new sustainable extension of the Damen Services products and service provision, which we can deliver to ship owners, shipyards and service providers across the globe thanks to our extensive network of Service Hubs." Rutger Blaauw, Managing Director of Damen Services explains.
In addition to purchase B-Shore units, Damen Services will also be working with lease constructions for their clients. Damen Services aims to keep a significant number of units in stock and the first B-Shore is expected to be delivered in Q2 of 2023.
"We look forward to the further roll-out of B-Shore with Damen Services. This agreement is a great stepping stone towards closer collaboration between Damen Services and Mc Energy through the development of spin-off products and solutions we are already working on." Alex Wesemann, Commercial Director and co-owner of Mc Energy explains.
Mc Energy is a designer and manufacturer of energy storage systems and related products that are built in Ridderkerk, the Netherlands. The energy storage systems are used on board ships, in industry, construction and the non-residential building sector.
Damen Services provides ship owners with a wide range of support services and products throughout the life cycle of their fleet. In addition to its headquarters in Gorinchem, the Netherlands, Damen Services offers support from more than ten Service Hubs across the globe.
Damen operates 35 shipyards and 20 other companies in 20 countries, supported by a worldwide sales and service network. Damen Shipyards Group offers direct employment to more than 12,000 people.
Latest News
(Posted on 26/11/23)
VIKING Life-Saving Equipment, a global leader in maritime safety solutions, is launching an innovative... Read more
(Posted on 26/11/23)
Damen's client Gerdes Green has received a subsidy from the German Government for the investment... Read more
(Posted on 17/11/23)
A first of its kind training course for the Middle East has been held to teach mariners about the basic... Read more
(Posted on 13/11/23)
Wärtsilä ANCS, part of technology group Wärtsilä, has delivered to Seaspan, a marine... Read more
(Posted on 31/10/23)
The flag raising ceremony for three new ASD Tugs has taken place in Gdansk, Poland. In the presence... Read more
(Posted on 26/10/23)
A new immersive crane simulator that can recreate high-risk scenarios without putting drivers or other... Read more
(Posted on 23/10/23)
Vesto Ropes, a global leader in innovative steel wire-rope solutions, has announced a strategic partnership... Read more
(Posted on 23/10/23)
Bedeschi S.p.a. has been awarded a contract for the design and supply of a new longitudinal storage... Read more
(Posted on 18/10/23)
Rhenus Maritime Services (RMS) is adding a new coastal vessel to its fleet in the shape of the RMS Ruhrort... Read more
(Posted on 18/10/23)
Dualog, a leading maritime software provider, has introduced a major enhancement to the Dualog Drive... Read more