Damen's Caribbean milestone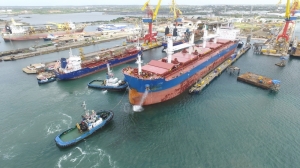 (Posted on 15/11/18)
Damen Shiprepair Curaçao (DSCu), floating dock has become operational with the docking of a bulk carrier.
DSCu has commissioned its large floating C dock. After the final tests had been carried out in the morning, the C Dock was submerged onto the equalized seabed. DSCu Nautical department, with the help of local KTK pilots and tugs subsequently docked the first commercial ship, a 63,400 tonnes deadweight bulk carrier, thus putting the C dock into service.
"This marks a special milestone and we are very proud of this," Lodewijk Franken, DSCu's managing director commented about the 230 by 45 metres Panamax-class dock. "It is highly rewarding to see the yard's infrastructure today, following an intensive period of improvements, and to have the first ship in our C dock." It is one of two floating docks in which Damen has invested. Both docks arrived jointly at the Caribbean island of Curaçao on 30 April 2018 and are part of a wider investment programme for DSCu since its takeover by Damen in 2017.
Franken said, "Many on the island still vividly remember the moment when the heavy lift ship Xin Guang Hua arrived at the Sint Anna Bay with our two floating docks on board and passed the Queen Juliana Bridge on April 30. This was a breathtaking moment which the staff at the yard relived when watching the first commercial docking on November 2. Docking the large bulkcarrier went smoothly."
The smaller D dock – which had been docked inside the C dock since their Atlantic crossing – has been floated-out late October to be moored alongside the repair quayside. It is currently having electric power connected after which the pumps and valves can be tested. It is expected to be put into service in November also.
Damen Shipyards Group operates 35 shipbuilding and repair yards, employing 12,000 people worldwide. Damen has delivered more than 6,000 vessels in more than 100 countries and delivers some 180 vessels annually to customers worldwide. Based on its unique, standardised ship-design concept Damen is able to guarantee consistent quality.
Damen's focus on standardisation, modular construction and keeping vessels in stock leads to short delivery times, low 'total cost of ownership', high resale values and reliable performance. Furthermore, Damen vessels are based on thorough R&D and proven technology.
Latest News
(Posted on 27/09/23)
As the global shipping industry today celebrates World Maritime Day with its central theme of &ldquo... Read more
(Posted on 26/09/23)
Leading provider of secure maritime data communications software, GTMaritime, has reached 15,000 installations... Read more
(Posted on 26/09/23)
Posidonia Exhibitions, organisers of Posidonia, the International Shipping Exhibition, is launching... Read more
(Posted on 19/09/23)
Seven months after its formal launch, NorthStandard is already realizing tangible benefits from combining... Read more
(Posted on 12/09/23)
Maritime nuclear technology company CORE POWER has boosted its Global Advisory Board with four new high... Read more
(Posted on 12/09/23)
Foreship has relocated its UK subsidiary to larger premises and appointed Tuur Killaars as Senior Sustainability... Read more
(Posted on 08/09/23)
Classification society DNV has signed a Memorandum of Understanding (MoU) with Singapore-based ship... Read more
(Posted on 08/09/23)
Leading blended learning provider Intelligent Seas Group (ISG) is delighted to announce its collaboration... Read more
(Posted on 04/09/23)
Record year-on-year declines in rainfall has been identified as the 'likely culprit' for... Read more
(Posted on 04/09/23)
After years of keeping a vital navigation service operating on the same income, Middle East Navigation... Read more