Cybersecurity to remain a threat in 2021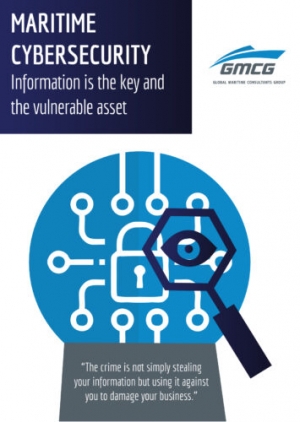 (Posted on 05/01/21)
The maritime industry will remain a target of cyber-criminals in 2021 and the world's shipping fleets will need to be on high alert for cyber-attacks as the industry recovers from the damage caused by the global pandemic, according to Ionut Paris, Managing Director, GMCG Romania.
Established in 1988, GMCG provides expert technical, legal, training and management consultancy for diverse stakeholders in the shipping and offshore sectors.
"The recent cyber-attacks on companies such as Google demonstrate the sophistication and capabilities of many of the cyber-criminals who have set their sights on the maritime sector. The New Year will be a time to be even more vigilant about the effects of a cyber-attack. We all need to be aware of the dramatic effects it can have on shipping operations and crew safety."
January 2021 will see the introduction of new safety rules for the maritime sector from the IMO and it will also become mandatory for ship owners, managers and operators to address cyber risks in the safety management systems on their vessels. To address this, GMCG Global, one of the world's leading specialised technical, legal and management consultancy service providers to the maritime industry, has just released their latest White Paper looking at cyber-crime in the industry. The new paper: MARITIME CYBERSECURITY - Information is the key and the vulnerable asset – is now available as a free download from www.gmcg.global
Ionut believes the maritime industry needs to be even more vigilant in 2021 because of the increasing cyber activities related to the global transport and logistics industries.
"The new year continues the global economic recovery and shipping will play a major part in that process. But it is vital that everyone remains on guard against the increasing threats from cyber-criminals. Many of today's attacks using digital processes are against business operations concentrating on intellectual theft, the damage to electronic systems and the hacking of sensitive databases. The risks are not only to financial investments and operations but to seafarers' welfare and safety. This threat will only increase in 2021, despite the global pandemic.
"Our new White Paper reviews the current potential threats, along with the solutions and defences that we can all take to minimise the risks to operations. The maritime world is coming to terms with new remote ways of working and so we must all ensure we have the solid foundations to defend against this breed of determined cyber-criminals."
With offices and agents in over 100 cities and ports around the world, GMCG serves national and international clients from ship builders, owners, agents and seafarers, to offshore operators, to bankers, underwriters and lawyers with an extensive portfolio of professional maritime services.
Latest News
(Posted on 31/03/23)
In line with Norden's 2023-2025 strategy to capitalise on the most attractive opportunities in... Read more
(Posted on 31/03/23)
American Bureau of Shipping, A.P. Moller - Maersk, Fleet Management Limited, Georgia Ports Authority... Read more
(Posted on 31/03/23)
Although news teams might have moved on to other locations and different crises, for those Turks and... Read more
(Posted on 28/03/23)
The board of Oldendorff Carriers, has appointed Patrick Hutchins as the new President and CEO of the... Read more
(Posted on 28/03/23)
The Swedish Club is looking to the future with the expansion and restructuring of the Club's management... Read more
(Posted on 24/03/23)
One Sea has welcomeed Finnish start-up Groke Technologies as its new member, bringing additional expertise... Read more
(Posted on 24/03/23)
ClassNK has released "FAQs on the EU-ETS for Shipping", an overview and necessary preparation... Read more
(Posted on 20/03/23)
AXSMarine, a pioneer and market leader in the provision of advanced solutions for shipping professionals... Read more
(Posted on 20/03/23)
Shipzero is enabling transport and logistics companies to create transparency about their emissions... Read more
(Posted on 07/03/23)
The Isle of Man Ship Registry (IOMSR) has become an associate member of The International Association... Read more