CSL welcomes M/V Nukumi home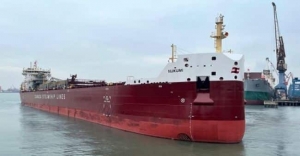 (Posted on 01/04/22)
CSL's new diesel-electric self-unloading ship has arrived in Halifax, fresh from her maiden voyage.
Purpose-built for Windsor Salt, Nukumi will begin servicing the Mines Seleine salt mine in late April.
The ship is the first diesel-electric Laker and the first single point loader to operate in Canada.
Windsor Salt and Canada Steamship Lines (CSL) have partnered to build a new state-of-the-art self-unloading ship with a deadweight of 26,000 metric tons that will chart new waters in safe, sustainable and efficient shipping in the Gulf of St. Lawrence and Great Lakes region.
Leveraging their shared values of safety, sustainability and innovation, Windsor Salt and CSL began construction of the custom-made vessel in August 2020 after several years of collaborative planning, which included an environmental impact analysis, ship and shore personnel safety reviews, an efficiency evaluation of cargo operations, and navigational optimization.
The distinctive, purpose-designed vessel was created to service Windsor Salt's need to deliver deicing salt from its Mines Seleine salt mine on the Magdalen Islands to stockpiles in Montreal, Quebec City, and other destinations within the provinces of Quebec and Newfoundland. Windsor Salt's consistent and timely delivery of deicing salt helps keep roadways safe during the winter season across Eastern Canada.
The new vessel will bring a long-term, safe, sustainable and reliable shipping solution to the region that relies on the Mines Seleine salt mine.
Latest News
(Posted on 27/09/23)
As the global shipping industry today celebrates World Maritime Day with its central theme of &ldquo... Read more
(Posted on 26/09/23)
Leading provider of secure maritime data communications software, GTMaritime, has reached 15,000 installations... Read more
(Posted on 26/09/23)
Posidonia Exhibitions, organisers of Posidonia, the International Shipping Exhibition, is launching... Read more
(Posted on 19/09/23)
Seven months after its formal launch, NorthStandard is already realizing tangible benefits from combining... Read more
(Posted on 12/09/23)
Maritime nuclear technology company CORE POWER has boosted its Global Advisory Board with four new high... Read more
(Posted on 12/09/23)
Foreship has relocated its UK subsidiary to larger premises and appointed Tuur Killaars as Senior Sustainability... Read more
(Posted on 08/09/23)
Classification society DNV has signed a Memorandum of Understanding (MoU) with Singapore-based ship... Read more
(Posted on 08/09/23)
Leading blended learning provider Intelligent Seas Group (ISG) is delighted to announce its collaboration... Read more
(Posted on 04/09/23)
Record year-on-year declines in rainfall has been identified as the 'likely culprit' for... Read more
(Posted on 04/09/23)
After years of keeping a vital navigation service operating on the same income, Middle East Navigation... Read more