COSCO strengthen cooperation with MacGregor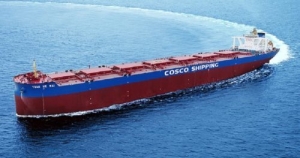 (Posted on 08/08/19)
MacGregor, part of Cargotec, has signed a framework purchasing agreement with COSCO Shipping to support MacGregor spare parts and service of equipment installed on their fleet of more than 1000 ships operating worldwide.
"We are looking forward to increasing our collaboration with COSCO Shipping," says John Carnall, Senior Vice President, Global Lifecycle Support, MacGregor. "The framework agreement provides for the scope of support services supplied to COSCO Shipping to be further enhanced, and will additionally enable more effective inventory forecasting across the fleet".
COSCO Shipping is one of the world's largest shipowning groups, with a wide range of shiptypes operating globally. As of 30 June 30, 2019, the total fleet of Cosco Shipping comprises of 1308 vessels with a capacity of 105.13 million DWT, ranking No.1 in the world; dry bulk fleet (437 vessels/41.18 million DWT),
Cargotec enables smarter cargo flow for a better every day with its leading cargo handling solutions and services. Cargotec's business areas Kalmar, Hiab and MacGregor are pioneers in their fields. Through their unique position in ports, at sea and on roads, they optimise global cargo flows and create sustainable customer value. Cargotec's sales in 2018 totalled approximately EUR 3.3 billion and it employs around 12,000 people.
Latest News
(Posted on 20/03/23)
AXSMarine, a pioneer and market leader in the provision of advanced solutions for shipping professionals... Read more
(Posted on 20/03/23)
Shipzero is enabling transport and logistics companies to create transparency about their emissions... Read more
(Posted on 07/03/23)
The Isle of Man Ship Registry (IOMSR) has become an associate member of The International Association... Read more
(Posted on 07/03/23)
The wellbeing of crew members is becoming more important to shipping companies says leading catering... Read more
(Posted on 28/02/23)
Canada based Algoma Central Corporation has reported its results for the year ended 31 December, 2022... Read more
(Posted on 24/02/23)
Ukrainian seafarers have largely returned to international shipping thereby restoring balance in crew... Read more
(Posted on 24/02/23)
The Chairs of the Round Table of International Shipping Associations met in Athens last week to renew... Read more
(Posted on 21/02/23)
AXSMarine, a leading provider of SaaS shipping software and data for decision making in the chartering... Read more
(Posted on 20/02/23)
Algoma Central Corporation and The CSL Group, who together form the CSL International Pool have announced... Read more
(Posted on 20/02/23)
Swiss marine power company WinGD has launched a pilot project for a new engine diagnostics solution... Read more