COCERAL urges support for Ukraine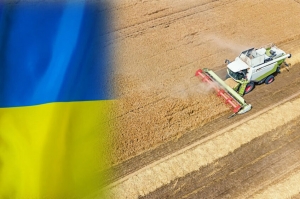 (Posted on 08/03/22)
The European association representing the trade in commodities such as cereals, rice feedstuffs and agrosupply value their with the people at the Ukrainian Grain Association and are urging support.
Companies in the sectors represented by COCERAL are taking steps to ensure the security of their employees on the ground and seek to help where they can. They also have to continue honouring their contracts, conscious that the importance of Ukraine's supply of agricultural raw materials and ingredients to the EU is such, that our inability to import from that country will create severe shortages, both for the feed and food industries.
"COCERAL and our members are profoundly affected by the war raging in Ukraine and the humanitarian tragedy unfolding in the country due to the Russian Federation's unprovoked invasion," said a statement.
"We wish to support our partners in the Ukrainian grain industry, some of whom have lost their jobs, income, homes, and even loved ones over the last week. We value our relationship with people at the Ukrainian Grain Association, and can completely endorse their request. We know any donations here will be well spent, and used to support those who need it the most.
We can all do our part, and appreciate the chance to make a difference, industry to industry."
The Black Sea region represents an important supply of grains and oilseed products for the world market. Ukraine in particular exports about 60 million tonnes of grain to the world. It was expected in the current marketing year that Ukraine would export about 33 million tonnes of corn and 24 million tonnes of wheat. For Europe, maize represents the main imported product from Ukraine with a yearly average of 11 million tonnes, but also other commodities such as sunflower oil, with about 2 million tonnes
Latest News
(Posted on 26/11/23)
ADM, a leader in sustainable agriculture supply chains, has announced an important expansion of its... Read more
(Posted on 17/11/23)
Trafigura, a market leader in the global commodities industry, has agreed to invest in an all-in-one... Read more
(Posted on 17/11/23)
ADM and Marathon Petroleum Corp. have celebrated the opening of their joint venture soybean processing... Read more
(Posted on 13/11/23)
Former U.S. Grains Council (USGC) Director of Global Programmes Alejandra Castillo was named the successor... Read more
(Posted on 13/11/23)
Rio Tinto has completed the acquisition of PanAmerican Silver's stake in Agua de la Falda and... Read more
(Posted on 05/11/23)
Cargill has completed an expansion and modernization project at its integrated soybean crush and refined... Read more
(Posted on 31/10/23)
BHP has approved an investment of US$4.9 billion (C$6.4 billion) for stage two of the Jansen potash... Read more
(Posted on 31/10/23)
Rio Tinto and cable solution provider Prysmian are partnering to build a more sustainable North American... Read more
(Posted on 26/10/23)
The American Soybean Association has applauded the U.S. Department of Agriculture's efforts to... Read more
(Posted on 26/10/23)
Rio Tinto has appointed James "Joc" O'Rourke as a non-executive director with effect... Read more