Cleveland Cascades in Georgia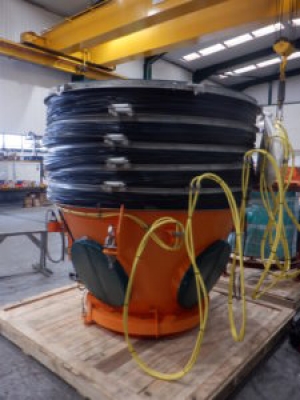 (Posted on 02/03/20)
Cleveland Cascades CC942 Chute is to be supplied to Batumi Port in Georgia for the ship loading of Fertilisers, Urea and Sulphur. Cleveland Cascades is a global leader in bespoke dry bulk loading chutes
The cascade system will be fitted via a pivoting head chute onto a luffing boom. The 18m 1350 sized chute has a capacity of 1,550 m3 per hour with nominal rates for this project required at 915 to 1528 m3 per hour. The chute Steel work is supplied painted to C5M Marine standard for corrosion protection as can be seen in the images in the gallery below.
The winch supplied for this system has also been fitted with a hand wind function for manual retraction should it be required. The chute is supplied with a Trimmer Spout/Spoon which has approximately 1.5m outreach.
The cones and trimmer are fitted with a UHMW PE AS Liner for abrasion protection. The cones also incorporate an anti-static earthing system as seen in the gallery below.
The system is supplied with stands for the trimmer, skirt and head chute with fork lift points for simple movement and storage on site.
Cleveland Cascades is a specialist in the design and manufacture of bespoke dry bulk loading chutes. Based in the North East of England, the company has built a population of over 650 systems, working in bulk handling facilities worldwide.
They are best known for the Cascade controlled flow technology chute, which uses a series of inclined cones, inside a retractable cover, to control dust pollution at source, while at the same time minimising both material degradation and segregation. This technology has established the company as a leading global force in ship and silo loading chutes.
The company's range of Free Fall chutes, complement the Cascade and have applications in tanker loading, vehicle loading as well as ship and silo loading.
Latest News
(Posted on 23/01/23)
KVH Managed Firewall and Cloud Email value-added services available to commercial fleets to enhance... Read more
(Posted on 23/01/23)
NAVTOR has been announced as the latest industry leader to join the Smart Maritime Network (SMN).The... Read more
(Posted on 16/01/23)
One Sea has welcomed intelligent navigation solutions provider, Orca AI, as the newest member of the... Read more
(Posted on 10/01/23)
Elcome International, a leading provider of maritime systems and integration solutions, is providing... Read more
(Posted on 10/01/23)
Corrosion Products & Equipment (CPE), a specialist engineering firm based in Rochester, New York... Read more
(Posted on 04/01/23)
Bruks Siwertell has secured a new Siwertell ship unloader contract from cement and ready-mix concrete... Read more
(Posted on 23/12/22)
Superior Industries, Inc., a US-based manufacturer and global supplier of bulk material processing and... Read more
(Posted on 23/12/22)
Bruks Siwertell has received an order from Hallet Capital Pty Ltd for a Siwertell ship unloader. It... Read more
(Posted on 20/12/22)
One Sea has welcomed South Korea's Avikus as its latest member, consolidating its position as... Read more
(Posted on 20/12/22)
Cargotec CEO Mika Vehviläinen has informed Cargotec's Board of Directors of his intention... Read more