Cimbria affirms sustainability focus with new Bamboo Chain Conveyor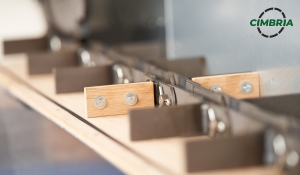 (Posted on 23/07/21)
Cimbria, a world leader in the field of high-tech solutions for Grain & Seed processing, has strengthened its commitment to develop sustainable products for the rapidly changing global industry.
Cimbria has been driven by innovation throughout its 75 years history. Today, the company delivers another innovation supporting a better environment with the creation of a new eco-attentive product for the feed industry.
The opportunity was born when Felleskjøpet Rogaland Agder (FKRA), one of the leading suppliers in the agricultural sector in Norway, asked Cimbria to reduce the presence of micro plastics within its supply chain.
FKRA joined the Ethical Trading Initiative (IEH) in 2013. The membership shows their commitment to continuously improve environmental conditions, in line with basic ILO standards and United Nations conventions.
Within this commitment, suppliers must work to improve their products to achieve high levels of sustainability and replace plastic components with organic parts, where possible.
That's why Cimbria has developed an innovative feature in chain conveyors. They are now utilizing sustainable raw materials to replace PE-HD plastic plates with bamboo plates.
As a result, the new Bamboo Chain Conveyor is the first conveyor on the market able to reduce the presence of micro plastics in the fish feeding supply chain.
The Cimbria Bamboo Chain Conveyor offers a range of features, which makes it ideal for that industry. It includes maximum wear resistance, smoother operation and lower noise for a better workplace environment.
Collaborating with clients to ensure high-quality products has always been Cimbria's best way to drive results. It positively impacts business and the environment. Both teams share the same vision for the future and for society.
With the bamboo chain conveyor, Cimbria strengthens its commitment to put resources in place and provide the best solutions for our customers, while serving the planet. It helps us keep our promise to be "an Expert at your side".
Latest News
(Posted on 27/09/23)
EMS-Tech Inc., a global leader in engineering and innovation within the dry bulk material handling industry... Read more
(Posted on 26/09/23)
MacGregor, part of Cargotec, has received a significant, more than EUR 25 million order for general... Read more
(Posted on 26/09/23)
HEMEXPO, Hellenic Marine Equipment Manufacturers and Exporters, a leading suppliers and exporters association... Read more
(Posted on 19/09/23)
ClassNK has conducted third-party certification for the CO2 emissions reductions of "JGreeX&trade... Read more
(Posted on 12/09/23)
Charterers can save hundreds of thousands of dollars of unnecessary demurrage costs by drilling down... Read more
(Posted on 08/09/23)
Nippon Kaiji Kyokai (ClassNK) has joined the major classification societies to amend its rules relating... Read more
(Posted on 08/09/23)
On behalf of SLPLUS Holding and based on their trust in Feyz Group's operational capabilities,... Read more
(Posted on 08/09/23)
Leading corporate wellbeing provider OneCare Solutions (OCS) has launched the OneCare Solutions Mobile... Read more
(Posted on 04/09/23)
With CCS-Ready scrubbers now being sold at pace, Wärtsilä's studies across a range of... Read more
(Posted on 04/09/23)
German Ship Repair Jamaica Limited (GSRJ), a private joint venture of German, Turkish and Jamaican investors... Read more