Cavotec wins breakthrough mooring order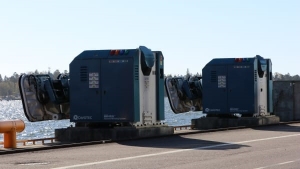 (Posted on 21/05/21)
In a major breakthrough for automated mooring, MoorMaster technology has been selected for installation at a berth in a key market in the Far East. This is the first installation of this unique mooring system in Asia and highlights widespread interest in the technology and its growing use around the world.
Cavotec's technology is used by several bulk ports around the globe, including at Port Hedland in Western Australia
"This order demonstrates the high quality of our MoorMaster system and is a clear indication of how vacuum mooring is becoming the new standard for mooring worldwide," says Patrick Mares, President of Cavotec's Ports & Maritime Division.
The MoorMaster system will moor a 180m-long roll-on/roll-off vessel at a port in the Far East. It will create a safer and less stressful work environment for employees on board the vessel and ashore. It will also contribute to greater berth availability due to reduced vessel motion. The system will be installed in 2022.
MoorMaster eliminates the need for conventional mooring lines by replacing them with automated vacuum pads that moor and release vessels in seconds. Its patent-protected Active Control™ technology minimises vessel motion, thereby drastically improving port productivity.
First introduced 20 years ago, MoorMaster is the only proven and widely used vacuum mooring technology. It is used at is used at bulk, container handling, lock, roll-on/roll-off, and ship-to-ship applications worldwide.
Cavotec is a leading cleantech company that designs and delivers connection and electrification solutions to enable the decarbonization of ports and industrial applications.
Latest News
(Posted on 26/11/23)
VIKING Life-Saving Equipment, a global leader in maritime safety solutions, is launching an innovative... Read more
(Posted on 26/11/23)
Damen's client Gerdes Green has received a subsidy from the German Government for the investment... Read more
(Posted on 17/11/23)
A first of its kind training course for the Middle East has been held to teach mariners about the basic... Read more
(Posted on 13/11/23)
Wärtsilä ANCS, part of technology group Wärtsilä, has delivered to Seaspan, a marine... Read more
(Posted on 31/10/23)
The flag raising ceremony for three new ASD Tugs has taken place in Gdansk, Poland. In the presence... Read more
(Posted on 26/10/23)
A new immersive crane simulator that can recreate high-risk scenarios without putting drivers or other... Read more
(Posted on 23/10/23)
Vesto Ropes, a global leader in innovative steel wire-rope solutions, has announced a strategic partnership... Read more
(Posted on 23/10/23)
Bedeschi S.p.a. has been awarded a contract for the design and supply of a new longitudinal storage... Read more
(Posted on 18/10/23)
Rhenus Maritime Services (RMS) is adding a new coastal vessel to its fleet in the shape of the RMS Ruhrort... Read more
(Posted on 18/10/23)
Dualog, a leading maritime software provider, has introduced a major enhancement to the Dualog Drive... Read more