Cargill strengthens executive team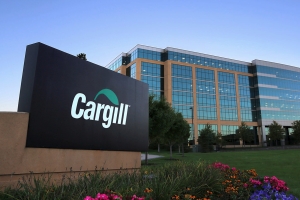 (Posted on 28/02/23)
Cargill has announced the appointments of Joanne Knight as Chief Financial Officer (CFO) and Philippa Purser as Head of Strategy and Global Process Leader – each will help accelerate the company's strategic priorities and commitment to nourish the world in a safe, responsible and sustainable way.
"As Cargill continues to navigate dynamic global markets, operational excellence and a clearly articulated vision driven by purpose and values will define the company's success," said Brian Sikes, Cargill President and CEO. "Joanne and Philippa are exceptional leaders with a compelling blend of strategic discipline, well-honed operating skills, and a relentless passion for serving our customers and people. I am looking forward to their continued leadership and partnership."
Knight, who currently serves as Cargill's acting CFO, is a seasoned finance leader who has built her career on delivering results through dynamic market cycles. Before this role, Knight was Vice President of Finance for Cargill's Agriculture Supply Chain enterprise, including Ocean Transportation and the World Trading Group. Before Cargill, she spent ten years in finance, marketing, and business leadership roles at General Mills that included P&L responsibility, as well as roles in supply chain finance, sales finance, and financial planning and analysis. She also held finance leadership roles at Wachovia. Knight earned her Bachelor of Science degree in Finance and Management from the University of Virginia and her Master of Business Administration degree from Harvard University.
Purser, a 32-year Cargill veteran, brings deep global experience and relentless focus on people and culture, delivering for customers and defining growth strategies to this role. She currently serves as Cargill's Agriculture Supply Chain Group Leader in EMEA, leading significant transformation and operational improvements. With broad industry experience across multiple businesses, cycles, and geographies, Purser has held leadership roles in the U.S., Europe, South America, Asia, and Australia. Purser earned her Bachelor's degree in History from Cambridge University.
Sikes added: "The world is a diverse place, and to nourish the world in a safe, responsible, and sustainable way, we need to bring more perspectives and voices to the table. We are excited about adding these two new leaders to our diverse Executive Team and committed to driving meaningful impact."
Latest News
(Posted on 26/11/23)
ADM, a leader in sustainable agriculture supply chains, has announced an important expansion of its... Read more
(Posted on 17/11/23)
Trafigura, a market leader in the global commodities industry, has agreed to invest in an all-in-one... Read more
(Posted on 17/11/23)
ADM and Marathon Petroleum Corp. have celebrated the opening of their joint venture soybean processing... Read more
(Posted on 13/11/23)
Former U.S. Grains Council (USGC) Director of Global Programmes Alejandra Castillo was named the successor... Read more
(Posted on 13/11/23)
Rio Tinto has completed the acquisition of PanAmerican Silver's stake in Agua de la Falda and... Read more
(Posted on 05/11/23)
Cargill has completed an expansion and modernization project at its integrated soybean crush and refined... Read more
(Posted on 31/10/23)
BHP has approved an investment of US$4.9 billion (C$6.4 billion) for stage two of the Jansen potash... Read more
(Posted on 31/10/23)
Rio Tinto and cable solution provider Prysmian are partnering to build a more sustainable North American... Read more
(Posted on 26/10/23)
The American Soybean Association has applauded the U.S. Department of Agriculture's efforts to... Read more
(Posted on 26/10/23)
Rio Tinto has appointed James "Joc" O'Rourke as a non-executive director with effect... Read more