Cargill strengthens China commitment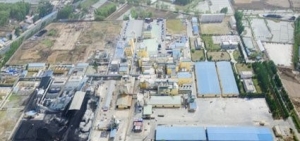 (Posted on 29/04/19)
Cargill has announced that it will invest US$112 million to expand the capacity of its corn processing facility in Songyuan of Jilin province. This is part of its joint initiative with Songyuan government to build the Sino-US Cargill Biotech Industrial Park, featuring the Cargill Food Safety and Technology Centre. Cargill will continue to invest in the park in the coming years. The move is expected to help boost local economy and strengthens local corn processing industry.
"Cargill has made significant investments in Songyuan, which is welcomed by us," said Mr. Wang Zilian, mayor of Songyuan Municipal Government. "I believe the new investment and projects will help boost the prosperity of local farmers and also benefit the growth of local corn processing industry."
The park, which occupies 3.71 million square meters, is designed to facilitate both corn processing and trading, with a processing capability of up to two million tons per year by 2020. Future warehouses will be built for commodities such as corn and starches.
As one of the most important facilities in the park, the Cargill Food Safety and Technology Centre will focus on testing, research and training in the area of food safety, as well as process improvement and product development for the corn processing and food ingredients industries.
"China is crucial market with amazing vitality. We will continue to work as partners with China to build sustainable agriculture and invest in rural areas," said Dave MacLennan, Cargill chairman and CEO at the foundation laying ceremony for Cargill Food Safety and Technology Center.
AIPU Food Industry Co., LTD is one of the companies that has established its presence in the park. As one of the key partners of Cargill in China, AIPU is constructing a 150,000-ton project to produce caramel pigment, leveraging products and services from Cargill and the park.
"AIPU is happy to put some of our key projects here in the park. The park provides us with resources, infrastructure and value-added services that we need. Currently, our project is proceeding smoothly," said Michael Wei, CEO of AIPU Food Industry Co., LTD. "In the future, we will look to further our collaboration with Cargill in deep corn processing and providing more high-quality products for our customers and consumers."
"The park welcomes companies along the corn processing and trading value chain. They will enjoy convenient services and easy access to resources at the park, including a supply chain to connect their products with domestic and overseas market. We are grateful for the ongoing support of Jilin and Songyuan governments as we continue to invest in this region, working with the government, partners and farmers to meet customer demands," stated Jerry Liu, president of Cargill China.
The Jilin Province investment further demonstrates Cargill's growing commitment to long-term investments in China. Recently, the company announced a $40 million USD investment in Yichun of Jiangxi Province to build an animal nutrition plant with annual production capacity of 120,000 tons of premix and 60,000 tons per year of specialty animal feed.
Latest News
(Posted on 02/06/23)
Rio Tinto plans to invest US$395 million1 in a seawater desalination plant in the Pilbara, Western Australia... Read more
(Posted on 31/05/23)
A new collaboration between BHP and Microsoft has used artificial intelligence and machine learning... Read more
(Posted on 23/05/23)
Bunge and Nutrien Ag Solutions, the retail division of Nutrien Ltd. have announced a strategic alliance... Read more
(Posted on 17/05/23)
Vale has concluded the shipment of its first cargo of iron ore briquettes to be tested in a blast furnace... Read more
(Posted on 12/05/23)
The UK Government's decision to abandon plans to review all EU-derived legislation by the end of 2023... Read more
(Posted on 08/05/23)
The USA's National Grain and Feed Association (NGFA) and 42 other agricultural groups have expressed... Read more
(Posted on 02/05/23)
BHP has announced the completion of the OZ Minerals acquisition and implementation of the scheme of... Read more
(Posted on 02/05/23)
ADM, global leader in nutrition, and one of the leading flour millers in the UK, has for the first time... Read more
(Posted on 28/04/23)
Speaking on behalf of the American Soybean Association and his fellow soy growers, ASA President Daryl... Read more
(Posted on 28/04/23)
Rio Tinto has entered into a binding agreement to acquire the Platina Scandium Project, a high-grade... Read more