Cargill completes acquisition of Owensboro Grain Company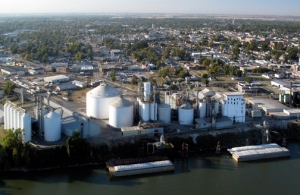 (Posted on 27/01/23)
Cargill has announced that it has completed the acquisition of Owensboro Grain Company, a fifth-generation family-owned soybean processing facility and refinery located in Owensboro, Kentucky.
"Today marks a significant milestone as we welcome Owensboro Grain Company into our Cargill family," said Leonardo Aguiar, president of Cargill's North American agricultural supply chain. "The addition of Owensboro Grain is an essential step on our journey to creating a connected, resilient and modernized grain experience for our customers and the markets we serve."
The addition of Owensboro Grain Company will enhance Cargill's efforts to increase capacity across its North American oilseeds network to support growing demand for oilseeds driven by food, feed and renewable fuel markets.
Cargill connect producers and users of grains and oilseeds around the globe through origination, trading, processing, and distribution, as well as offering a range of farmer services and risk management solutions.
Cargill has been in business for 155 years. Today, they apply that expertise to serve customers and communities in 70 countries/regions. Cargill have 160,000 employees working to help the world's food system work and connecting farmers with markets, customers with ingredients and families with daily essentials—from the foods they eat to the floors they walk on.
Latest News
(Posted on 26/11/23)
ADM, a leader in sustainable agriculture supply chains, has announced an important expansion of its... Read more
(Posted on 17/11/23)
Trafigura, a market leader in the global commodities industry, has agreed to invest in an all-in-one... Read more
(Posted on 17/11/23)
ADM and Marathon Petroleum Corp. have celebrated the opening of their joint venture soybean processing... Read more
(Posted on 13/11/23)
Former U.S. Grains Council (USGC) Director of Global Programmes Alejandra Castillo was named the successor... Read more
(Posted on 13/11/23)
Rio Tinto has completed the acquisition of PanAmerican Silver's stake in Agua de la Falda and... Read more
(Posted on 05/11/23)
Cargill has completed an expansion and modernization project at its integrated soybean crush and refined... Read more
(Posted on 31/10/23)
BHP has approved an investment of US$4.9 billion (C$6.4 billion) for stage two of the Jansen potash... Read more
(Posted on 31/10/23)
Rio Tinto and cable solution provider Prysmian are partnering to build a more sustainable North American... Read more
(Posted on 26/10/23)
The American Soybean Association has applauded the U.S. Department of Agriculture's efforts to... Read more
(Posted on 26/10/23)
Rio Tinto has appointed James "Joc" O'Rourke as a non-executive director with effect... Read more