Cargill and Kotug launch first zero-emission electric pusher tug and barge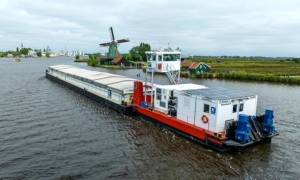 (Posted on 09/06/23)
Cargill has partnered with Kotug International to deploy Kotug's zero emission E-Pusher and E-Barges, the world's first fully electric pusher boat and barges to transport cocoa beans from the Port of Amsterdam, the largest cocoa import port in the world, to Cargill's cocoa factory in Zaandam, the Netherlands.
Pushers and barges are essential, efficient methods of delivering goods by water from Dutch ports to the Netherlands and beyond. Today, Cargill became the first company in the world to put into operation fully electrified pusher and barges for inland shipping, eliminating both emissions and noise pollution.
The zero-emission vessel, equipped with state-of-the-art technology and cutting-edge propulsion systems, eliminates harmful emissions, including carbon dioxide (CO2), sulphur oxides (SOx), nitrogen oxides (NOx), and particulate matter (PM). The fully electric pusher boats and barges are expected to reduce CO2 emissions by 190.000 kg per year, the equivalent of 15 000 one-way trips by truck from the Port of Amsterdam to Cargill's cocoa factory in Zaandam. The boats will run on green energy from the wind farm that Cargill and Vattenfall operate in partnership with Windpark Hanze.
"Cargill is committed to nourishing the world in a safe, responsible, and sustainable way. Electrifying the transportation of our cocoa beans is just one example of how we are implementing new, innovative sustainable practices to reduce our impact on the planet and protect people. The KOTUG E-pusher Type M is the first-of-its-kind and Cargill is excited to be a partner in launching it in the Netherlands," says Emiel van Dijk, Managing Director Cocoa & Chocolate Europe & West Africa.
Ard-Jan Kooren, President & CEO of KOTUG International adds, "I would like to express our gratitude to Cargill for their partnership and unwavering support in this transformative endeavor. Together, we are making history and reshaping the future of maritime transportation. This ground-breaking achievement aligns with our mission to provide sustainable solutions to the maritime industry. By introducing the world's first zero emission vessel of this set-up we aim to inspire other shipping companies, governments, and stakeholders to embrace clean energy solutions and make significant strides towards achieving the global climate goals for the next generation."
KOTUG is a leading maritime family-owned company, offering its innovative towage and maritime related services on a global scale. KOTUG is firmly committed to the highest industry standards of health, safety, environment, quality, and security. Adding value by sustainability-focused innovations, KOTUG provides the complete portfolio based on a combination of long-standing knowledge and advanced technologies. From designing, building, chartering and operating vessels to training people and providing innovative consultancy services. The company's expertise is divided across five pillars: Towage, Training & Consultancy, Intelligence, Subsea and Maritime Excellence.
Latest News
(Posted on 07/12/23)
Rio Tinto has approved a $77 million (A$110 million) pre-feasibility study (PFS) to progress development... Read more
(Posted on 03/12/23)
Rio Tinto and Giampaolo Group have completed a transaction to form the Matalco joint venture, combining... Read more
(Posted on 03/12/23)
Khalifa Economic Zones Abu Dhabi – KEZAD Group, the largest operator of integrated and purpose... Read more
(Posted on 26/11/23)
ADM, a leader in sustainable agriculture supply chains, has announced an important expansion of its... Read more
(Posted on 17/11/23)
Trafigura, a market leader in the global commodities industry, has agreed to invest in an all-in-one... Read more
(Posted on 17/11/23)
ADM and Marathon Petroleum Corp. have celebrated the opening of their joint venture soybean processing... Read more
(Posted on 13/11/23)
Former U.S. Grains Council (USGC) Director of Global Programmes Alejandra Castillo was named the successor... Read more
(Posted on 13/11/23)
Rio Tinto has completed the acquisition of PanAmerican Silver's stake in Agua de la Falda and... Read more
(Posted on 05/11/23)
Cargill has completed an expansion and modernization project at its integrated soybean crush and refined... Read more
(Posted on 31/10/23)
BHP has approved an investment of US$4.9 billion (C$6.4 billion) for stage two of the Jansen potash... Read more