Captain Misra passes away suddenly in Dubai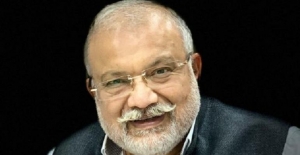 (Posted on 27/03/22)
Tributes from across the maritime industry are being paid to the first ever recipient of IBJ's Lifetime Achievement Award, Captain Jitendra Misra, who passed away suddenly on 23 March.
Managing Director of Dubai-based dry bulk ship and tanker owner Emarat Maritime, Captain Misra was a towering presence in the maritime bulk industry. His loss will be felt deeply by many.
Jitendra Mishra devoted much of his life to the maritime industry. He started his career as a deck cadet with India Steamship in 1971, and quickly climbed the ranks to become one of the youngest master's in the India shipping fleet, aged just 25. He came to Dubai in February 1990 to set up Emarat Maritime, and was the company's managing director since 1997. Captain Mishra is a Fellow of the Institute of Chartered Shipbrokers (London) and the founding chairman of the UAE Branch, a Fellow of the Chartered Institute of Logistics and Transport (London) and a member of the Chartered Institute of Arbitrators (London) and a founding member and secretary general of the UAE ship owners association. His contribution to the shipping industry is vast.
Publisher and owner of International Bulk Journal, Ray Girvan, recalled Captain Misra's long relationship with IBJ, "From the first time we met almost twenty years ago, Captain's positivity and passion for the shipping industry shone through.
He would tell stories from his time on-board ship, from battling storms on some of the world's most challenging seas to more light-hearted adventures in port, including my home town of Liverpool in the 1970s.
He was a true maritime leader, motivator and he became a great friend to IBJ.
His professionalism was also always in evidence, so, when the IBJ Awards were launched in 2009, the panel had no hesitation in honouring Captain Misra with its first ever Lifetime Achievement award. The trophy was presented to him at our gala dinner in Amsterdam and his acceptance speech, in which he expressed his gratitude for the unwavering support given to him by his beloved wife, son and daughter will be forever in my memory."
Captain Misra collaborated with Oshima Shipyard, Japan, on the design and development of the world's first Ultramax bulk carrier, Dubai Sun, the winner of IBJ's Bulk Ship of the Year Award in 2010.
Latest News
(Posted on 27/09/23)
As the global shipping industry today celebrates World Maritime Day with its central theme of &ldquo... Read more
(Posted on 26/09/23)
Leading provider of secure maritime data communications software, GTMaritime, has reached 15,000 installations... Read more
(Posted on 26/09/23)
Posidonia Exhibitions, organisers of Posidonia, the International Shipping Exhibition, is launching... Read more
(Posted on 19/09/23)
Seven months after its formal launch, NorthStandard is already realizing tangible benefits from combining... Read more
(Posted on 12/09/23)
Maritime nuclear technology company CORE POWER has boosted its Global Advisory Board with four new high... Read more
(Posted on 12/09/23)
Foreship has relocated its UK subsidiary to larger premises and appointed Tuur Killaars as Senior Sustainability... Read more
(Posted on 08/09/23)
Classification society DNV has signed a Memorandum of Understanding (MoU) with Singapore-based ship... Read more
(Posted on 08/09/23)
Leading blended learning provider Intelligent Seas Group (ISG) is delighted to announce its collaboration... Read more
(Posted on 04/09/23)
Record year-on-year declines in rainfall has been identified as the 'likely culprit' for... Read more
(Posted on 04/09/23)
After years of keeping a vital navigation service operating on the same income, Middle East Navigation... Read more