BWTS technology adapted to kill virus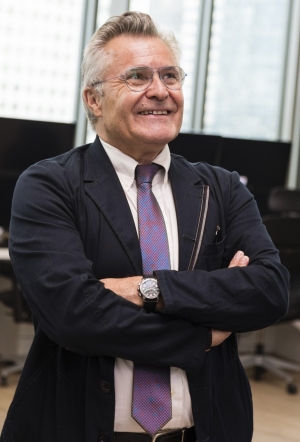 (Posted on 22/04/20)
The ultra-violet light technology used to kill the invasive species found in ships' ballast water tanks can be used to protect seafarers, health workers and first-responders from picking up the coronavirus from surfaces.
Following research by the France-based company behind the BIO-SEA ballast water treatment, a surface disinfection system will be ready for market introduction by the end of May.
A prototype scanner based around BIO-UV Group's proven UV-C reactor technology is currently being independently verified.
The 50cm handheld device emits a ray of UV-C which is passed over the surface, taking only seconds to disinfect the scanned area. The scanner can be used to kill the coronavirus from sickbay/hospital beds, tables, computer keyboards, furniture and all other surfaces.
In parallel, BIO-UV Group subsidiary TRIOGEN is currently working on the development of a disinfection system for wet surfaces using ozone.
BIO-UV Group's founder and CEO Benoít Gillmann said: "We mobilised our R&D team to develop a system of disinfection for surfaces intended, as a priority, for all nursing staff. However, the technology has potential application in other sectors."
BIO-UV Group is verifying the capabilities, performance and reliability of the prototype in two CE-approved laboratories.
"Since 6 April, progress has been made in the completion of a prototype, the performance of which is currently being tested in compliance with the strictest of international standards," said Gillmann.
"The aim of this testing is to validate the system's capacity to disinfect and to eliminate all types of microorganisms using UV-C technology. Once this testing has been finalised, a second laboratory will work over the next few weeks on testing the efficacy of the system in eliminating Covid-19."
If the UV-C scanner's efficiency is successfully demonstrated, it will be introduced to medical personnel and healthcare workers from the end of May.
Latest News
(Posted on 26/11/23)
VIKING Life-Saving Equipment, a global leader in maritime safety solutions, is launching an innovative... Read more
(Posted on 26/11/23)
Damen's client Gerdes Green has received a subsidy from the German Government for the investment... Read more
(Posted on 17/11/23)
A first of its kind training course for the Middle East has been held to teach mariners about the basic... Read more
(Posted on 13/11/23)
Wärtsilä ANCS, part of technology group Wärtsilä, has delivered to Seaspan, a marine... Read more
(Posted on 31/10/23)
The flag raising ceremony for three new ASD Tugs has taken place in Gdansk, Poland. In the presence... Read more
(Posted on 26/10/23)
A new immersive crane simulator that can recreate high-risk scenarios without putting drivers or other... Read more
(Posted on 23/10/23)
Vesto Ropes, a global leader in innovative steel wire-rope solutions, has announced a strategic partnership... Read more
(Posted on 23/10/23)
Bedeschi S.p.a. has been awarded a contract for the design and supply of a new longitudinal storage... Read more
(Posted on 18/10/23)
Rhenus Maritime Services (RMS) is adding a new coastal vessel to its fleet in the shape of the RMS Ruhrort... Read more
(Posted on 18/10/23)
Dualog, a leading maritime software provider, has introduced a major enhancement to the Dualog Drive... Read more