Bunge shareholders approve Viterra combination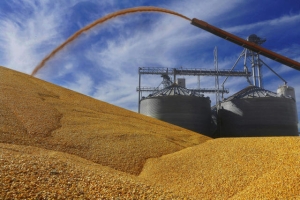 (Posted on 06/10/23)
Bunge Limited have announced the results of its extraordinary general meeting of its shareholders.
Shareholders approved the acquisition of Viterra Limited, including the issuance of 65,611,831 common shares, par value $0.01 per share, of Bunge Limited. They also voted in support of the redomestication that will change the place of incorporation and residence of the ultimate parent company of the Bunge Group from Bermuda to Switzerland.
Viterra's fully integrated agriculture network connects producers and consumers to supply sustainable, traceable and quality-controlled agricultural products. The company owns a network of 29 port terminals in ten of the main exporting countries from which they supply bulk shipments to destination markets all over the world. A comprehensive logistics network allows them to oversee commodities from the producer to the hands of the consumer.
"We appreciate our shareholders' vote of confidence in our strategy to position Bunge as a premier global agribusiness solutions company through the merger with Viterra," said Greg Heckman, Bunge CEO. "Our team is focused on effectively running our operations while also planning for a successful integration. We are committed to creating an innovative global agribusiness company well positioned to meet the demands of increasingly complex markets and better serve farmers and end-customers."
The merger is expected to close in mid-2024, subject to satisfaction of customary closing conditions, including receipt of regulatory approvals.
The final vote results will be reported in a Form 8-K to be filed by Bunge with the Securities and Exchange Commission.
Bunge's purpose is to connect farmers to consumers to deliver essential food, feed and fuel to the world. Bunge is headquartered in St. Louis, Missouri, and have almost 23,000 employees working across approximately 300 facilities located in more than 40 countries.
Latest News
(Posted on 07/12/23)
Rio Tinto has approved a $77 million (A$110 million) pre-feasibility study (PFS) to progress development... Read more
(Posted on 03/12/23)
Rio Tinto and Giampaolo Group have completed a transaction to form the Matalco joint venture, combining... Read more
(Posted on 03/12/23)
Khalifa Economic Zones Abu Dhabi – KEZAD Group, the largest operator of integrated and purpose... Read more
(Posted on 26/11/23)
ADM, a leader in sustainable agriculture supply chains, has announced an important expansion of its... Read more
(Posted on 17/11/23)
Trafigura, a market leader in the global commodities industry, has agreed to invest in an all-in-one... Read more
(Posted on 17/11/23)
ADM and Marathon Petroleum Corp. have celebrated the opening of their joint venture soybean processing... Read more
(Posted on 13/11/23)
Former U.S. Grains Council (USGC) Director of Global Programmes Alejandra Castillo was named the successor... Read more
(Posted on 13/11/23)
Rio Tinto has completed the acquisition of PanAmerican Silver's stake in Agua de la Falda and... Read more
(Posted on 05/11/23)
Cargill has completed an expansion and modernization project at its integrated soybean crush and refined... Read more
(Posted on 31/10/23)
BHP has approved an investment of US$4.9 billion (C$6.4 billion) for stage two of the Jansen potash... Read more