Bulk increases as North Sea Port makes up pandemic losses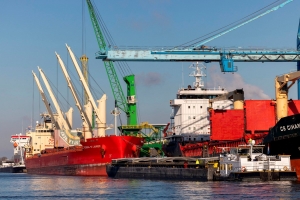 (Posted on 25/10/21)
Over the first nine months of this year, the companies in North Sea Port recorded 51.3 million tons of seaborne cargo transhipment. That is 9% more than in the same period in 2020.
In 2020, North Sea Port faced a 13% fall in seaborne cargo transhipment over the first nine months - in the midst of the pandemic - compared to the previous year. For the first nine months of 2021, it has recorded a significant turnaround, with seaborne cargo transhipment increasing by 9%.
Seaborne transhipment rose by 4.2 million tons (+9%) compared to the first nine months of 2020. Almost 3 million tons (+12%) of this increase is accounted for by dry bulk, with almost all product groups displaying growth (grains, coal, iron ore, cement). North Sea Port is very much a bulk port.
Liquid bulk (such as petroleum and chemical products) amounted to 12.9 million tons, an increase of 6.2%. The volume of ro-ro cargo was 2.6 million tons (+40.3%). Breakbulk declined (-1.2%, to 7 million tons), as did containers (-5.2%, to 1.8 million tons).
Overall, seaborne cargo transhipment in the first nine months was more positive than estimated. If cargo transhipment continues to increase at this rate, North Sea Port will match the record level of 2019 by the end of next year.
Inland navigation transhipment also rose, to 44 million tons (+7.9%). The increase was seen in all cargo types. Only container transhipment showed a decline (-34%).
North Sea Port is a West European port that extends for more than 60 kilometers, 9.100 hectares, and across two countries: Belgium and the Netherlands. Because of its location at the North Sea, the port is directly accessible by sea-going vessels, benefitting global trade.
Its central location in Europe makes North Sea Port a logistics hub through which goods flow smoothly to all corners of Europe and even China. North Sea Port is also part of the Rhine-Alps, North Sea-Mediterranean, and North Sea-Baltic transport corridors, which ensure that goods can be delivered quickly and efficiently by rail, road, and/or inland shipping to their final destination.
Latest News
(Posted on 27/01/23)
In addition to helping its 12 member ports decarbonize, the World Ports Climate Action Program (WPCAP... Read more
(Posted on 27/01/23)
The first ship of the year, M/V Cape Alexandros, arrived at 11:00 a.m. on January 4, 2023, from Rotterdam... Read more
(Posted on 27/01/23)
AD Ports Group the leading facilitator of global trade, logistics, and industry, has signed a Memorandum... Read more
(Posted on 23/01/23)
In the presence of the UAE President His Highness Sheikh Mohamed bin Zayed Al Nahyan, and the President... Read more
(Posted on 16/01/23)
The Port of South Louisiana (Port SL) CEO Paul Matthews, has announced that it has entered into a Purchase... Read more
(Posted on 16/01/23)
With 73.6 million tons of cargo transhipment from maritime shipping (+7%) and 64.5 million tons from... Read more
(Posted on 12/01/23)
Despite unfavourable economic conditions, traffic in the port of Dunkerque, the third largest port in... Read more
(Posted on 10/01/23)
North Sea Port CEO Daan Schalck has been looking back as well as forward. 2022, was a year in which... Read more
(Posted on 10/01/23)
A multi-million-pound deal has been agreed to build a new road salt storage facility to support Scotland... Read more
(Posted on 10/01/23)
Ports Minister Rita Saffioti has announced Samuel McSkimming as the new CEO of the Pilbara Ports Authority... Read more