Britannia hosts P&I academy for members in London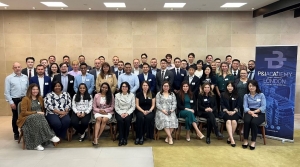 (Posted on 15/09/22)
Previously known as Members' Training Week, the Britannia P&I Academy provides a week-long programme of training and networking.
Representatives from Britannia Members from around the world are in London this week for a programme of presentations, workshops and networking events designed to improve delegates' knowledge and understanding of P&I and learn more about Britannia and the Managers, Tindall Riley.
The week-long programme is aimed at people who may be fairly new to P&I and this year around 40 delegates from Britannia's members are attending. The Academy will also be attended by a number of staff from Britannia's regional hubs.
Running from 12 to 16 September, the programme covers a wide area of subjects including underwriting, claims, loss prevention and people risks. There will also be updates from the Britannia team on sanctions, sustainability, salvage and a range of other topical issues.
The programme includes social events for delegates to network with Britannia staff including lunches, a visit to Lloyd's and a farewell dinner with the Managers.
"Britannia P&I Academy is an excellent way to learn about the P&I market in general and how our systems work at Britannia in a relaxed and friendly environment. Members have a unique opportunity during the week to develop their knowledge of P&I and Britannia, strengthen relationships with the Britannia team and hopefully enjoy themselves," said Andrew Cutler, CEO of Britannia P&I.
Latest News
(Posted on 20/03/23)
AXSMarine, a pioneer and market leader in the provision of advanced solutions for shipping professionals... Read more
(Posted on 20/03/23)
Shipzero is enabling transport and logistics companies to create transparency about their emissions... Read more
(Posted on 07/03/23)
The Isle of Man Ship Registry (IOMSR) has become an associate member of The International Association... Read more
(Posted on 07/03/23)
The wellbeing of crew members is becoming more important to shipping companies says leading catering... Read more
(Posted on 28/02/23)
Canada based Algoma Central Corporation has reported its results for the year ended 31 December, 2022... Read more
(Posted on 24/02/23)
Ukrainian seafarers have largely returned to international shipping thereby restoring balance in crew... Read more
(Posted on 24/02/23)
The Chairs of the Round Table of International Shipping Associations met in Athens last week to renew... Read more
(Posted on 21/02/23)
AXSMarine, a leading provider of SaaS shipping software and data for decision making in the chartering... Read more
(Posted on 20/02/23)
Algoma Central Corporation and The CSL Group, who together form the CSL International Pool have announced... Read more
(Posted on 20/02/23)
Swiss marine power company WinGD has launched a pilot project for a new engine diagnostics solution... Read more