Breast Cancer Awareness programme expanded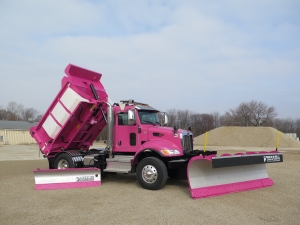 (Posted on 09/10/19)
October is National Breast Cancer Awareness Month in the U.S., and Martin Engineering is building on its previous fund-raising programs by expanding the company's efforts to support the Susan B. Komen Foundation. In 2017 and 2018, the firm raised a total of $7500 by contributing $50 for every special edition truck vibrator sold during the month, painted in the organization's traditional pink color to draw attention and raise awareness. This year, Martin has added its 70-liter air cannons to the program, contributing $100 for every unit sold in October, with a goal of significantly increasing the total contribution.
"According to the American Cancer Society, it's estimated that there will be more than 268,000 new cases of invasive breast cancer diagnosed among U.S. women in 2019, as well as 2,670 new cases among men," observed Martin Engineering Vibration Business Development Manager Susie Orlandi. "This disease impacts such a large number of people that just about all of us have been touched by it in some way. Our expanded 2019 programme is intended to increase our contribution to the foundation, helping to fund research, treatment and support for the thousands of people who've been affected."
Martin Engineering has been a global innovator in bulk material handling applications for decades, with its industrial vibrators and air cannons both contributing to greater safety and productivity in mining, coal handling, cement manufacturing and a broad array of other industries. The firm specializes in advanced technologies for improving the performance of conveying systems, high-temperature processing, storage and
transport of bulk materials. For many years, the Susan G. Komen mission has inspired the passionate employees at Martin Engineering to engage in grass roots efforts, including teams in the Peoria Memorial Race for the Cure, a Martin Race for the Cure in the company's home town of Neponset, raffles, and tee shirt sales, with proceeds going to the foundation. As of 1st October, the firm has already surpassed its total donation from 2018.
The Susan B. Komen Foundation was created in 1982, launching its famous Race for the Cure shortly thereafter. The organization has contributed to a number of advancements, including the identification of genetic links, less-invasive surgical techniques and advanced drug therapies, as well as advocating for more federal funding of additional research and early detection programmess.
The foundation has invested over $3 billion in more than 60 countries since it was formed -- helping to reduce breast cancer-related deaths by 40% between 1989 and 2016 -- with an emphasis on supporting those with the fewest resources. With treatment options, community outreach, advocacy and other programs around the world, the organization has played a critical role in virtually every major advance to combat breast cancer – transforming how the world talks about and treats the disease and helping millions of breast cancer patients become cancer survivors.
Latest News
(Posted on 03/12/23)
Ship design, particularly the design of bulk carriers, presents particular challenges when it comes... Read more
(Posted on 26/11/23)
VIKING Life-Saving Equipment, a global leader in maritime safety solutions, is launching an innovative... Read more
(Posted on 26/11/23)
Damen's client Gerdes Green has received a subsidy from the German Government for the investment... Read more
(Posted on 17/11/23)
A first of its kind training course for the Middle East has been held to teach mariners about the basic... Read more
(Posted on 13/11/23)
Wärtsilä ANCS, part of technology group Wärtsilä, has delivered to Seaspan, a marine... Read more
(Posted on 31/10/23)
The flag raising ceremony for three new ASD Tugs has taken place in Gdansk, Poland. In the presence... Read more
(Posted on 26/10/23)
A new immersive crane simulator that can recreate high-risk scenarios without putting drivers or other... Read more
(Posted on 23/10/23)
Vesto Ropes, a global leader in innovative steel wire-rope solutions, has announced a strategic partnership... Read more
(Posted on 23/10/23)
Bedeschi S.p.a. has been awarded a contract for the design and supply of a new longitudinal storage... Read more
(Posted on 18/10/23)
Rhenus Maritime Services (RMS) is adding a new coastal vessel to its fleet in the shape of the RMS Ruhrort... Read more