BPA calls for border continuity ahead of Brexit White Paper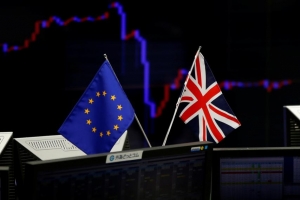 (Posted on 04/07/18)
As the UK Cabinet prepares for an away day' at the Prime Minister's country residence Chequers this week, the British Ports Association (BPA) has urged Ministers to agree a proposal that will ensure goods continue to flow uninterrupted between UK and EU ports post-Brexit.
Commenting on the Government's forthcoming revised customs 'blueprint' proposals the BPA's Chief Executive, Richard Ballantyne, said, "We are eagerly awaiting the outcome of the Cabinet discussions and forthcoming Brexit White Paper. The UK's post-Brexit customs relationship with the EU will dictate how almost half of our trade is handled at the border."
The BPA has been pressing for the continued free flow of goods through UK and EU ports post Brexit. These ports facilitate a variety of trades including consumer goods, perishable cargoes and 'just in time' freight. The BPA and partners in the transport sector have previously welcomed the aims outlined in the Government's Customs Partnership proposal to preserve border fluidity, but this proposal could be complicated to manage and is not popular with some politicians.
Any form of customs or other regulatory checks has the potential to disrupt these important supply chains. If there are to be border checks, the BPA has argued that they should be carried out away from port bottlenecks. Ballantyne continued, "Any long-term border arrangements will need to cover not only customs but other issues such as environmental health standards for products of animal or plant origin. Checks on food and organic cargoes could potentially be required once the UK leaves the Customs Union and the Single Market. Also time will be a critical factor as whatever arrangement it is vital there is time for ports to adapt to avoid disruption."
"There has been talk of IT solutions for some customs procedures which could help overcome many of the problems. However without a deal, decisions will need to be taken as to how information is collected and indeed how many of the physical cargo inspections carried by staff at border for varying reasons, are undertaken. The simple answer is that in the interest of trade these activities should take place away from ports. Furthermore the freight and logistics will need time to prepare so that trade continues to more freely through ports on 'day one', whenever that may be."
The BPA has called for the Government to seek compatibility with the EU on plant and animal health standards, which could lead to potential challenges for some ports and particularly at Roll-on Roll-off ferry terminals. This is a vital part of ensuring trade continues to flow freely through ports after Brexit. Under present EU rules, plant and animal products could be subject to a hugely disruptive inspection regime at the border.
This could be problematic for all types of port handling such European trade but the most challenging would be in respect of HGVs at ports such as Dover, Holyhead, Immingham and Portsmouth. To require lorries to stop and undergo time-consuming inspections at ports could lead to significant disruption at the border and create congestion around ports.
Latest News
(Posted on 28/03/23)
Canadian Pacific has said that, on 14 April, 2023, it will exercise the authority granted by the U.S... Read more
(Posted on 24/03/23)
LOGISTEC Corporation, a leading marine and environmental services provider, has announced its financial... Read more
(Posted on 24/03/23)
Terence Bowles, President and CEO of the St. Lawrence Seaway Management Corporation (SLSMC), and Adam... Read more
(Posted on 20/03/23)
Abu Dhabi based AD Ports Group, the leading facilitator of global trade, logistics, and industry, has... Read more
(Posted on 20/03/23)
Grain handling at the Port of Immingham is increasing thanks to the new opportunities presented by investment... Read more
(Posted on 07/03/23)
Marcor Stevedoring has signed a contract adding Liebherr's largest and most powerful mobile harbour... Read more
(Posted on 07/03/23)
AD Ports Group, an Abu Dhabi based leading facilitator of global trade, logistics, and industry, and... Read more
(Posted on 02/03/23)
LOGISTEC Stevedoring Inc., a subsidiary of LOGISTEC Corporation, a leading North American marine and... Read more
(Posted on 28/02/23)
End-of-year figures for total traffic in the Spanish Port of Bilbao stand at 32.7 million tonnes, up... Read more
(Posted on 24/02/23)
The Port of Sept-Îles and LOGISTEC Arrimage Inc. have announced that they have reached the impressive... Read more