BossTek develops waterless odour control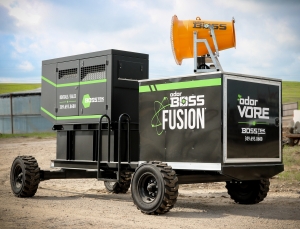 (Posted on 17/06/19)
One of the USA's most experienced global innovators of dust and odour control technology has developed a new, autonomous mobile system that uses no water to reduce site odours from soil remediation, landfills, food processing, composting facilities, wastewater operations and other large-scale applications. Unlike conventional water-based odour control equipment, the OdorBoss Fusion from BossTek takes a different approach, with a patent-pending delivery system that eliminates the need for water dilution. The unique nozzle technology and powerful ducted fan distribute the company's highly-effective odour control chemicals over a wide area, and the fully-contained, self-powered unit can run for more than a week without operator intervention.
The new design is a fully customizable chemical flow and dispersion method. Operators are able to adjust chemical output by determining run time intervals and duty cycles to suit specific application needs. Powered by an industrial generator in a deluxe enclosure, the OdorBoss Fusion provides a continuous run time of up to 10 straight days without refueling and as much as two months of operation from a standard 275 gallon tote. The fully biodegradable family of chemicals is effective on a wide range of odour sources, including VOCs, sulfides, mercaptans, amines and even ammonia. The unit features a heated enclosure and nozzle with heat tracing to allow operation in virtually any weather.
Mounted on a rugged agricultural trailer with foam-filled tires, the entire system is engineered with industrial-strength components to withstand difficult operating environments. It can also be ordered on a street-legal roadworthy trailer for customers who may want to transport the equipment between facilities.
With a fuel capacity of 200 gallons, the generator employs an EPA Tier IV compliant engine, which also meets EU Stage IIIB emissions standards. The control panel is housed in a protective NEMA 3R cabinet, and the touch-screen controls allow adjustment of duty cycle and output time. Electrical components are NFPA 110 compliant.
"This design incorporates the features and benefits that have been identified as most important by our customers and others in a wide range of odour-producing industries," commented BossTek Project Engineer Jason Lesch. "It's highly mobile and operates for extended periods without operator intervention, with the ability to adjust chemical usage rates to suit the needs of specific applications. And the unique nozzle technology delivers unmatched versatility, allowing operators to customize operation to best suit their individual conditions."
The nozzle produces chemical droplets in a specific size range, and the powerful 7.5 HP fan delivers an air flow of 9,200 CFM (260.50 CMM) to further atomize the liquid for wide area dispersion. Precise aiming is provided by user-defined oscillation of 0° to 359°, with a vertical adjustment of -18° to 51°. The odour control chemicals can be specified as unscented or with a variety of natural tracer scents to help confirm the unit's efficacy, including cinnamon and fresh-cut grass.
"We've evolved over the years from a well-respected equipment supplier to a custom solutions provider," Lesch continued. "Our new and emerging technologies are developed to meet stated industry needs, with input from a broad spectrum of odour-producing operations.
"After a number of years in the odour control industry, we've received valuable customer feedback from a wide range of different applications," he added. "That input has helped us to continue the evolution of the OdorBoss into the latest generation, with features such as onboard power and eliminating the need for water dilution.
Latest News
(Posted on 24/03/23)
Bruks Siwertell has secured an order for a next-generation Siwertell road-mobile ship unloader, which... Read more
(Posted on 20/03/23)
Thordon Bearings is supplying its grease-free, self-lubricating ThorPlas-Blue bearing material to a... Read more
(Posted on 20/03/23)
French water treatment specialist BIO-UV Group has appointed Laurent-Emmanuel Migeon as its new Chairman... Read more
(Posted on 07/03/23)
With Wärtsilä's CII Dashboard, Anglo-Eastern is now able to make better informed decisions... Read more
(Posted on 07/03/23)
Bruks Siwertell has completed the commissioning of two large-scale Siwertell ST 790-D-type ship unloaders... Read more
(Posted on 28/02/23)
A consortium including technology group Wärtsilä has secured European Union funding to develop... Read more
(Posted on 28/02/23)
Bruks Siwertell has received an order for a next-generation Siwertell road-mobile ship unloader from... Read more
(Posted on 24/02/23)
Global Survival Technology solutions provider Survitec has introduced a new, formalised pre-inspection... Read more
(Posted on 24/02/23)
The slightest deviation in the machining, polishing, and finishing of ships' propeller blades... Read more
(Posted on 20/02/23)
Bühler expanded its business and improved profitability in an uncertain and volatile business environment... Read more