Blastr and Cargill Metals MOU for supply of green steel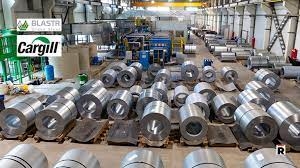 (Posted on 26/10/22)
Cargill's metals business and Blastr Green Steel AS, a developer of decarbonized steel supply, have agreed to work together to supply steel made without use of fossil fuels in the Nordic region to meet growing global demand for green steel. Both companies share an ambition to drive significant reductions of carbon emissions in the steel industry.
Under the Memorandum of Understanding ("MoU"), Blaster and Cargill Metals plan to combine the skills of both companies to accelerate the development of projects that enable significant carbon savings to the global steel industry. Cargill Metals brings expertise in raw materials sourcing, and Cargill's global capabilities in ocean transportation and logistics, as well as development of green products for market, risk management and financing facilities. Blastr contributes its industrial decarbonization expertise, entrepreneurial business skills, track record and access to capital within green energy and CO2 abatement. Blastr also brings regional knowledge of sites, opportunities and local support.
Cargill's ambition is to develop world leading projects in the green steel supply chain through the expedient development of initial production and then incrementally expand capacity based on market demand. Separately, independent market analysis suggests a market shortfall in supply, with global demand for low carbon steel likely to increase from below 5mt in 2021 to 200mt in 2030, with European demand increasing to nearly 40mt by that date, driven by automotive and construction sectors .
"Solving the decarbonization challenge of the steel industry requires new and innovative partnerships," said Lee Kirk, Managing Director, Cargill Metals, "We are thrilled to partner with Blastr and collaborate on bringing meaningful carbon reduction to this vital to abate sector. It brings us one step closer to our goal of shaping a responsible and sustainable ferrous supply chain that helps the world thrive."
"Ensuring the long-term supply of raw materials at required quantity and quality is crucial for providing green steel to the market with an absolute minimum of CO2 emissions through the entire value chain," said Dag Moxnes, CEO at Blastr. "Cargill offers a unique combination of access to regional raw materials, expertise, network and logistics solutions, which brings us a long step closer to realizing our joint Nordic green steel project."
The next phase of the cooperation will focus on final technology selection, access to green power, location and the final mix of products. Teams from Blastr and Cargill Metals will collaborate on sustainable supply chains, speed to market, technology risks and constraints, and on raising capital to finance the project development.
Latest News
(Posted on 07/12/23)
Rio Tinto has approved a $77 million (A$110 million) pre-feasibility study (PFS) to progress development... Read more
(Posted on 03/12/23)
Rio Tinto and Giampaolo Group have completed a transaction to form the Matalco joint venture, combining... Read more
(Posted on 03/12/23)
Khalifa Economic Zones Abu Dhabi – KEZAD Group, the largest operator of integrated and purpose... Read more
(Posted on 26/11/23)
ADM, a leader in sustainable agriculture supply chains, has announced an important expansion of its... Read more
(Posted on 17/11/23)
Trafigura, a market leader in the global commodities industry, has agreed to invest in an all-in-one... Read more
(Posted on 17/11/23)
ADM and Marathon Petroleum Corp. have celebrated the opening of their joint venture soybean processing... Read more
(Posted on 13/11/23)
Former U.S. Grains Council (USGC) Director of Global Programmes Alejandra Castillo was named the successor... Read more
(Posted on 13/11/23)
Rio Tinto has completed the acquisition of PanAmerican Silver's stake in Agua de la Falda and... Read more
(Posted on 05/11/23)
Cargill has completed an expansion and modernization project at its integrated soybean crush and refined... Read more
(Posted on 31/10/23)
BHP has approved an investment of US$4.9 billion (C$6.4 billion) for stage two of the Jansen potash... Read more