BHP revs into Komatsu's GHG Alliance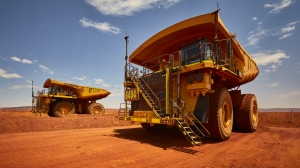 (Posted on 09/08/21)
To accelerate its push to become a net-zero operator by 2050, BHP will become a founding member of Komatsu's GHG Alliance, which aims to develop commercially viable zero-greenhouse gas emissions haul trucks.
As a founding partner of the Alliance, BHP plans to operate one of the first batches of zero-emission trucks upon commercial release.
BHP will provide engineering and technical resources to Komatsu to support the development phase as required. These activities will provide BHP with real-time access to technology in development, with Komatsu drawing upon BHP's mining expertise to accelerate its path to market.
Additionally, BHP and Komatsu will collaborate through the BHP FutureFit Academy to develop the future facing skills in our teams to operate and maintain this pioneering equipment.
BHP's Chief Commercial Officer, Vandita Pant, said: "Tackling climate change requires strong collaboration and collective effort across the supply chain. Reducing vehicle emissions is key to our climate strategy, and we are thrilled to join with Komatsu and our peers in the global mining sector on real, tangible action to help accelerate our transition to a low carbon future. Extending the FutureFit Academy partnership to equip our workforce to operate zero emissions technology is an exciting addition to our collaboration with Komatsu"
BHP's Group Procurement Officer, James Agar, said: "We are excited by the opportunity to work with the Komatsu GHG Alliance to drive new technology and innovation that can benefit the mining industry globally. This collaboration is a great example of the partnership approach we are taking in our supply chain as we work towards BHP's goal of net zero operational emissions by 2050."
Komatsu Ltd.'s President Mining Business Division, Max Moriyama, said: "We are thrilled to welcome BHP to this exciting new customer alliance and ready to see how we can all work together towards a more sustainable future and rapid development of zero-emission equipment solutions."
Latest News
(Posted on 26/11/23)
ADM, a leader in sustainable agriculture supply chains, has announced an important expansion of its... Read more
(Posted on 17/11/23)
Trafigura, a market leader in the global commodities industry, has agreed to invest in an all-in-one... Read more
(Posted on 17/11/23)
ADM and Marathon Petroleum Corp. have celebrated the opening of their joint venture soybean processing... Read more
(Posted on 13/11/23)
Former U.S. Grains Council (USGC) Director of Global Programmes Alejandra Castillo was named the successor... Read more
(Posted on 13/11/23)
Rio Tinto has completed the acquisition of PanAmerican Silver's stake in Agua de la Falda and... Read more
(Posted on 05/11/23)
Cargill has completed an expansion and modernization project at its integrated soybean crush and refined... Read more
(Posted on 31/10/23)
BHP has approved an investment of US$4.9 billion (C$6.4 billion) for stage two of the Jansen potash... Read more
(Posted on 31/10/23)
Rio Tinto and cable solution provider Prysmian are partnering to build a more sustainable North American... Read more
(Posted on 26/10/23)
The American Soybean Association has applauded the U.S. Department of Agriculture's efforts to... Read more
(Posted on 26/10/23)
Rio Tinto has appointed James "Joc" O'Rourke as a non-executive director with effect... Read more