BHP establishes new cloud agreements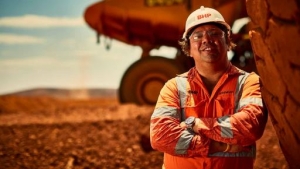 (Posted on 18/06/21)
BHP has selected Amazon Web Services (AWS) and Microsoft as long-term cloud providers to help improve safety, productivity, and reliability across its global operated assets.
The collaborations with AWS and Microsoft will support two distinct parts of BHP's operations.
AWS will power BHP's digital transformation by providing capabilities in data analytics and machine learning to rapidly deploy digital solutions globally to improve operational performance.
Microsoft, through its Azure platform, will host BHP's global applications portfolio. This will enable BHP to leverage its existing Microsoft licences and SAP applications portfolio, and help to reduce its reliance on regional data centres.
BHP Chief Technical Officer, Laura Tyler, said collaborating with two world-leading cloud providers highlighted the importance of cloud to support BHP's digital transformation.
"Digital technology is in everything we do at BHP, from how we connect to our customers and partners every day to how we extract and find resources more safely and sustainably," she said.
"We are leveraging next generation technologies like cloud, machine learning, and data analytics to solve complex business problems and unlock value even faster.
"Cloud is the foundation to our plans, and it will enable us to deploy digital solutions to the frontline quickly and at scale. Cloud will dramatically reduce the amount of hardware on sites, and reduce costs.
"We are thrilled to have AWS and Microsoft on board to ensure we have a strong foundation to accelerate our digital transformation plans and lift capability across the business."
Latest News
(Posted on 07/12/23)
Rio Tinto has approved a $77 million (A$110 million) pre-feasibility study (PFS) to progress development... Read more
(Posted on 03/12/23)
Rio Tinto and Giampaolo Group have completed a transaction to form the Matalco joint venture, combining... Read more
(Posted on 03/12/23)
Khalifa Economic Zones Abu Dhabi – KEZAD Group, the largest operator of integrated and purpose... Read more
(Posted on 26/11/23)
ADM, a leader in sustainable agriculture supply chains, has announced an important expansion of its... Read more
(Posted on 17/11/23)
Trafigura, a market leader in the global commodities industry, has agreed to invest in an all-in-one... Read more
(Posted on 17/11/23)
ADM and Marathon Petroleum Corp. have celebrated the opening of their joint venture soybean processing... Read more
(Posted on 13/11/23)
Former U.S. Grains Council (USGC) Director of Global Programmes Alejandra Castillo was named the successor... Read more
(Posted on 13/11/23)
Rio Tinto has completed the acquisition of PanAmerican Silver's stake in Agua de la Falda and... Read more
(Posted on 05/11/23)
Cargill has completed an expansion and modernization project at its integrated soybean crush and refined... Read more
(Posted on 31/10/23)
BHP has approved an investment of US$4.9 billion (C$6.4 billion) for stage two of the Jansen potash... Read more