BHP Australian apprenticeship pledge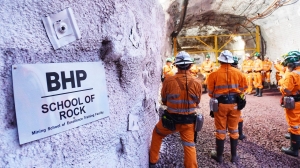 (Posted on 02/10/20)
BHP CEO Mike Henry has announced BHP's commitment to training and funding for 3,500 new Australian apprenticeship and training positions, and driving up to $450 million into supporting business opportunities in Australia's mining, equipment, technology and services (METS) sector.
Henry said the major skills and technology package would be good for the company and good for the country, as Australia focuses on its recovery from the COVID-19 pandemic.
The nearly $800 million package announced comprises three key elements to be deployed over the next five years:
An increase of 2,500 apprenticeships and traineeships through the BHP FutureFit Academy, established earlier this year, with associated spend of $300 million.
A further 1,000 skills development opportunities across a range of sectors in regional areas. BHP will invest $30 million and work with the Australian Government to create advanced apprenticeships and short courses in areas of potential future workforce demand.
BHP will commit up to $450 million spend in contracts with Australian METS companies and further advancement of this sector. It will work directly and through its major technology providers to source more local products and services, and will invest in technology pilots and emerging businesses.
Mr Henry said: "As Australia looks to rebuild its economy and provide jobs for the future, the mining industry has an important role to play as Australia's biggest export earner employing hundreds of thousands of people."
"The mining and METS sector is a critical pillar of our economy, and it has never been more important than now.
"Providing apprenticeships, skills and training opportunities for Australians of all ages and all walks of life, particularly in our regional communities, is a commitment we can make to help Australia bounce back.
"These investments will create a pipeline of future talent in highly skilled roles, working in an industry that delivers essential products to the world and generates export dollars that keep the Australian economy strong."
BHP employs approximately 45,000 people in Australia, and in the 2020 financial year contributed approximately $33.4 billion in economic value through jobs, suppliers, taxes, royalties and community investments.
BHP accelerated payments and reduced payment terms for small suppliers during the peak of the pandemic, hired an additional 1500 people on temporary contracts to support its Australian operations, created a $6 million fund to support labour hire companies and their employees, and established the $50 million Vital Resources Fund to support regional communities.
Latest News
(Posted on 26/09/23)
Vale has announced that it signed a MOU with the Port of Açu to study the development of a Mega... Read more
(Posted on 26/09/23)
The European Soy Monitor 2021 has been published, containing an overview of estimations on the use of... Read more
(Posted on 19/09/23)
BHP contributed $60 billion (AUD) in economic value to the Australian economy in the 2023 financial... Read more
(Posted on 19/09/23)
BHP contributed $60 billion (AUD) in economic value to the Australian economy in the 2023 financial... Read more
(Posted on 19/09/23)
Trafigura Group Pte Ltd. has announced an evolution of its executive team to further strengthen leadership... Read more
(Posted on 12/09/23)
The Food and Agricultural Organisation of the United Nations (FAO) forecast for global cereal production... Read more
(Posted on 08/09/23)
Rio Tinto has appointed Jérôme Pécresse to lead its Aluminium business, succeeding... Read more
(Posted on 04/09/23)
The Environmental Protection Agency (EPA) and the Army Corps in the USA have announced the final definition... Read more
(Posted on 28/08/23)
Despite the many and varied categories of cargo damage faced by shipowners transporting grain cargoes... Read more
(Posted on 28/08/23)
Rio Tinto and First Quantum Minerals have completed a transaction to form a joint venture that will... Read more