BHP announces divestment of Cerrejón interest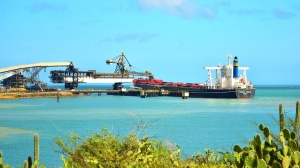 (Posted on 05/07/21)
BHP has announced that it has signed a Sale and Purchase Agreement with Glencore to divest its 33.3 per cent interest in Cerrejón, a non-operated energy coal joint venture in Colombia, for US$294 million cash consideration.
The transaction has an effective economic date of 31 December 2020. The purchase price is subject to adjustments at transaction completion which may include an adjustment for the dividends paid by Cerrejón to BHP during the period from signing to completion.
Alongside BHP and Anglo American, Glencore currently holds a 33.3 per cent interest in the operation. Glencore intends to acquire both BHP and Anglo American's holdings.
Subject to the satisfaction of customary competition and regulatory requirements, Glencore would assume full ownership and operating control of Cerrejón. Completion is expected to occur in the first half of the 2022 calendar year.
Selling BHP's financial interest to a current Cerrejón shareholder who understands the operation represents a strong outcome for Cerrejón and the stakeholders it supports.
A further impairment charge of approximately US$80 million post-tax will be recognised as an exceptional item in the financial results for the second half of the 2021 financial year.
Latest News
(Posted on 07/12/23)
Rio Tinto has approved a $77 million (A$110 million) pre-feasibility study (PFS) to progress development... Read more
(Posted on 03/12/23)
Rio Tinto and Giampaolo Group have completed a transaction to form the Matalco joint venture, combining... Read more
(Posted on 03/12/23)
Khalifa Economic Zones Abu Dhabi – KEZAD Group, the largest operator of integrated and purpose... Read more
(Posted on 26/11/23)
ADM, a leader in sustainable agriculture supply chains, has announced an important expansion of its... Read more
(Posted on 17/11/23)
Trafigura, a market leader in the global commodities industry, has agreed to invest in an all-in-one... Read more
(Posted on 17/11/23)
ADM and Marathon Petroleum Corp. have celebrated the opening of their joint venture soybean processing... Read more
(Posted on 13/11/23)
Former U.S. Grains Council (USGC) Director of Global Programmes Alejandra Castillo was named the successor... Read more
(Posted on 13/11/23)
Rio Tinto has completed the acquisition of PanAmerican Silver's stake in Agua de la Falda and... Read more
(Posted on 05/11/23)
Cargill has completed an expansion and modernization project at its integrated soybean crush and refined... Read more
(Posted on 31/10/23)
BHP has approved an investment of US$4.9 billion (C$6.4 billion) for stage two of the Jansen potash... Read more