Best quarter ever for port of Antwerp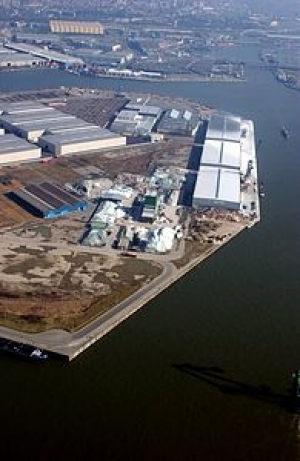 (Posted on 26/04/18)
The port of Antwerp experienced an excellent first quarter with a freight volume of 58,328,678 tonnes, an increase of 7.1% on the same period last year. The total volume is a result of all freight categories with the exception of conventional breakbulk. The main driver is once again container freight which enjoyed very strong growth of 9.5% compared with the first three months of 2017.
Dry bulk finished the quarter at 3,383,384 tonnes, representing growth of 7.4%. This was mainly thanks to the larger imports of coal, fertilisers and sand & gravel, along with the higher volume of scrap metal exports.
Conventional breakbulk performed less well compared with the same period last year, falling by 3.1% to 2,512,276 tonnes. Non-ferrous metals, wood, paper & cellulose and fruit were the categories that suffered the largest drop. The volatility of the respective trades and further containerisation both played a role here.
While steel performed very well in the same period last year, it has now expanded slightly overall by 1.5%, despite imports suffering a large drop of 9.9%. Imports from China were down sharply in comparison with Q1 17, although this decline which first became apparent in the second quarter of last year has now stabilised. Imports of Indian steel too have gradually declined after the big peak in the first half of 2017. On the other hand there has been a sharp rise in imports from Turkey and Russia.
Exports of steel products, by contrast, give an opposite picture with growth of 19.7%. In comparison with the fairly weak first quarter of 2017 there has now been a strong revival in steel exports to the US, with the month of March doing particularly well. Clearly there has been an anticipatory effect in response to the American threat of import tariffs on various products including steel.
Liquid bulk experienced an increase of 4.6%, to 18,552,332 tonnes.
A total of 3,531 seagoing ships called at Antwerp during the first quarter, an increase of 0.7%. The gross tonnage for its part rose by 2.0% to 101,728,371 GT.
Exports to the US experienced strong growth in all sectors during the first quarter of this year. Developments in the steel trade were partly due to the threat of import tariffs being imposed on European products. But apart from steel this growth was driven above all by a sharp rise in chemical exports.
The impact of Brexit on UK volumes so far remains limited, as the first quarter closed with growth of 4%, probably due to the weaker pound. The UK remains the third-largest trading partner for the port of Antwerp. The Port Authority is therefore watching the situation very closely, and during the recent visit by the British Secretary of State Robin Walker it announced that it seeks to appoint a full-time representative in the UK.
Latest News
(Posted on 18/05/22)
Marcor Stevedoring B.V. intends to extend its floating terminal in Rotterdam with the development of... Read more
(Posted on 12/05/22)
The first spade has gone into the ground for the new 800-metre-long quay at Quarleshaven in East Vlissingen... Read more
(Posted on 05/05/22)
AD Ports Group and the Red Sea Ports Authority have signed a Term Sheet and a Head of Terms agreement... Read more
(Posted on 27/04/22)
In the first quarter of 2022, 1.5% less freight passed through the Port of Rotterdam than in the same... Read more
(Posted on 20/04/22)
The total throughput of Port of Antwerp amounted to 58.3 million metric tonnes in the first quarter,... Read more
(Posted on 14/04/22)
Sea freight cargo traffic at North Sea Port increased by more than 6% during Q1 2022. The consequences... Read more
(Posted on 12/04/22)
In collaboration with US Customs and Border Protection (CBP) and the Foreign Trade Zone Board, the Port... Read more
(Posted on 12/04/22)
The entire share capital of Hangö Stevedoring has been transferred to Euroports Finland on 31.3... Read more
(Posted on 01/04/22)
Etihad Rail, the developer and operator of the UAE's National Rail network, and Dubai Industrial... Read more
(Posted on 30/03/22)
AD Ports Group has announced the signing of a Memorandum of Understand (MoU) with the Kuwait General... Read more