Bühler shows profitable growth in 2022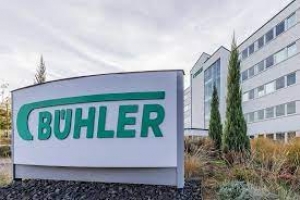 (Posted on 20/02/23)
Bühler expanded its business and improved profitability in an uncertain and volatile business environment. The company was able to mitigate effects of the war in Ukraine, tense supply chains, and soaring energy and raw material prices, while further improving its financial position with a high equity ratio and repaying the first tranche of its bond. The company continued to invest in innovation, new partnerships, and education and training. With numerous opportunities in its markets and a high order backlog of over CHF 2.1 billion, the company's ambition is to continue its positive development in 2023. "The impressive dedication of our employees worldwide helped us to be agile, resilient, and creative, even in the face of increasing volatility and uncertainties," says Bühler CEO Stefan Scheiber.
At the Group level, order intake rose 8.7% to CHF 3.3 billion and order backlog was robust at CHF 2.1 billion. Turnover increased by 10.3% to CHF 3.0 billion. EBIT improved by 36.0% to CHF 199 million, reflecting an EBIT margin of 6.7% (prior year: 5.4%). Net profit went up 35.7% to CHF 154 million (prior year: CHF 113 million). With these results, Bühler has largely managed to reach pre-pandemic business levels.
The growth in volume came mainly from the Advanced Materials business, where order intake soared by 40.6% to CHF 871 million, nearly doubling its volume within the last two years. Within Advanced Materials, the Die Casting business showed an outstanding performance, growing orders by 60.4%. Turnover in Advanced Materials increased by 31.8% to CHF 671 million. The Consumer Foods business continued its recovery with strong order intake growth of 21.6% to CHF 710 million, and turnover growth of 13.6% to CHF 578 million. The Grains and Food business, Bühler's largest business, showed solid performance despite being particularly impacted by disrupted supply chains and a slow feed market in China. The segment saw order intake in 2022 of CHF 1,663 million, down 6.5%, while turnover grew by 2.6% to CHF 1,696 million, and with this managed to keep business very stable throughout the Covid-19 pandemic.
All regions contributed to Bühler's turnover growth, with the Americas and Middle East Africa & India standing out. Regional growth rates and turnover shares were as follows: Asia 6% growth to 32% of the total share of turnover; Europe 3% growth to 30%; North America 17% growth to 17% and South America 26% growth to 5%; Middle East Africa & India 24% growth to 16%. With these successes in important markets, Bühler's global distribution of turnover is very robust and balanced.
Bühler's Customer Service business (including Single Machines) also grew by 3.4% and added substantially to the 2022 results with turnover amounting to CHF 955 million, representing a 32% share of Group turnover. Bühler offers a holistic service portfolio with seven modules from hardware, components, and spare parts to upgrading, maintenance, software and process optimizations for systems, with the objective of improving the performance of the existing customer asset base in terms of efficiency, safety, and sustainability. Sustainability gained importance in 2022, as services are the fastest lever to reduce energy, waste, and water in existing plants. "We judge the good business performance in 2022 as a confirmation of our strategy to be a provider of sustainable solutions and services, and to be a reliable and innovative partner in creating value for our customers," says CEO Stefan Scheiber.
In 2022, Bühler's financial position improved further, with the equity ratio increasing by 2.6pp to 49.8% (prior year: 47.2%). An important milestone was the repayment of the first tranche of the corporate bond of CHF 180 million in December. In 2017, Bühler raised capital on the financial markets for the first time in the form of a CHF 420 million dual tranche bond to invest in its growth and innovation capabilities. The second tranche of the bond of CHF 240 million is due in 2026. "Our ongoing solid financial position enables us to continue investing in new solutions and services and to remain fully independent in the long term," says CFO Mark Macus.
In 2022, Bühler expanded its innovation and education ecosystem. The Networking Days event in June provided the opportunity to bring together 1,000 industry leaders who engaged with each other on how to improve energy and food security, reduce waste, cut water usage, lower CO2e emissions, improve biodiversity, and rethink mobility. Bühler announced several joint ventures and partnerships that will facilitate the transition towards more efficient food and feed production and accelerate the shift towards sustainable mobility during this key event.
While 2023 will likely continue to be challenging, Bühler is starting the year with a solid financial position and high carryover of orders. Despite all the uncertainties, Bühler's ambition is to continue its positive development. "Overall, we are convinced that Bühler is well prepared to take another positive step in developing the business successfully in 2023, even in a very dynamic market environment," says CEO Stefan Scheiber.
Latest News
(Posted on 26/11/23)
VIKING Life-Saving Equipment, a global leader in maritime safety solutions, is launching an innovative... Read more
(Posted on 26/11/23)
Damen's client Gerdes Green has received a subsidy from the German Government for the investment... Read more
(Posted on 17/11/23)
A first of its kind training course for the Middle East has been held to teach mariners about the basic... Read more
(Posted on 13/11/23)
Wärtsilä ANCS, part of technology group Wärtsilä, has delivered to Seaspan, a marine... Read more
(Posted on 31/10/23)
The flag raising ceremony for three new ASD Tugs has taken place in Gdansk, Poland. In the presence... Read more
(Posted on 26/10/23)
A new immersive crane simulator that can recreate high-risk scenarios without putting drivers or other... Read more
(Posted on 23/10/23)
Vesto Ropes, a global leader in innovative steel wire-rope solutions, has announced a strategic partnership... Read more
(Posted on 23/10/23)
Bedeschi S.p.a. has been awarded a contract for the design and supply of a new longitudinal storage... Read more
(Posted on 18/10/23)
Rhenus Maritime Services (RMS) is adding a new coastal vessel to its fleet in the shape of the RMS Ruhrort... Read more
(Posted on 18/10/23)
Dualog, a leading maritime software provider, has introduced a major enhancement to the Dualog Drive... Read more