AXSQ free to shipping community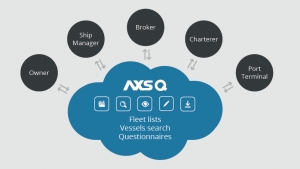 (Posted on 18/12/19)
AXSMarine, a pioneer and market leader in the provision of advanced solutions for shipping professionals, has announced that AXSQ - the vessel questionnaire and document management platform - is provided to the shipping community for free. AXSQ is designed to replace the cumbersome email process of document management between multiple shipping stakeholders.
AXSMarine said one of its latest tools is free of charge as a celebration of its 20th anniversary in the business. Established in 2000, the company has released a multitude of tools and solutions for the shipping industry. AXSQ brought AXSMarine its sixth award in IBJ's Best Marine IT Solution category.
The free release to the public of the company's latest product is intended to boost the community, streamlining the workflows between owners, managers, brokers, charterers, captains and port agents.
"AXSMarine cares for the shipping community. To help it grow and evolve has been our main drive force over the past 20 years", said Duncan Halliday, Business Development Director at AXSMarine. "Lots of resources can be saved by this innovative and efficient platform, homogenizing a process which is currently too cumbersome for all involved. The industry has been crying out for the creation a platform standard to facilitate trade."
"We live in a time where both performance and communication matter. AXSQ is free of charge. And it will remain so. No unauthorized usage of user stats. Your data will be kept safe and secure as usual. Join today the industry standard of tomorrow", concluded the experienced shipping professional.
AXSMarine is a global provider of online software solutions to the international shipping industry and is trusted by more than 10,000 users worldwide. Its software solutions deliver remarkable efficiency to commercial chartering processes in Dry, Tanker, and Containership chartering.
Latest News
(Posted on 26/11/23)
Shi.E.L.D. Services has selected Spinergie as its preferred digitized solution provider to monitor and... Read more
(Posted on 26/11/23)
Thousands of cadets and trainees in India will benefit from in-depth wellness training and support thanks... Read more
(Posted on 17/11/23)
As shipping continues its journey to decarbonisation, INTERCARGO will host a special forum in Athens... Read more
(Posted on 13/11/23)
INTERCARGO was deeply saddened and concerned to hear of the reported appalling missile attack on the... Read more
(Posted on 13/11/23)
A new-look Wellness at Sea Awareness Campaign for seafarers, their families and shore staff that &ldquo... Read more
(Posted on 05/11/23)
Classification society DNV has entered into a Joint Development Project (JDP) with AL Group and its... Read more
(Posted on 31/10/23)
Samsung Heavy Industries (SHI) and leading classification society DNV have inked a Memorandum of Understanding... Read more
(Posted on 31/10/23)
WISTA International, during its Annual General Meeting (AGM) held in Montevideo, Uruguay, on 25 October... Read more
(Posted on 31/10/23)
Members of INTERCARGO met in Athens last week for the Association's Annual General Meeting, Executive... Read more
(Posted on 26/10/23)
The Columbia Group (Columbia) has opened a new manning agency, Columbia Shipmanagement Vietnam (CSM... Read more