AXSMarine partners with The Baltic Exchange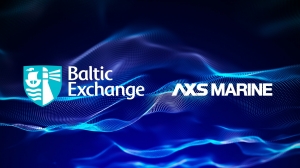 (Posted on 15/02/22)
Subscribers to Baltic Exchange information will now be able to access its indices via AXSMarine's chartering and analytical SaaS platforms. This is a powerful combination for charterers, shipowners, shipbrokers and freight analysts, delivering sharp actionable insights.
Founded in 2000, AXSMarine is a global provider of online software solutions to the international shipping industry and is trusted by more than 10,000 users worldwide.
Initially available inside stock AXSInsights, bespoke dashboards can be produced for clients. The Dry Bulk indices will also soon be available inside AXSMarine's Voyage Estimator, further enhancing charterers', owners' and shipbrokers' business processes.
The integration of Baltic Exchange freight rates with AXSMarine's all-in-one chartering solutions empowers users to identify, optimize, and time opportunities in the freight markets with much greater speed and accuracy.
Jacques Goudchaux, AXSMarine's CEO said: "Baltic Exchange data is a key element of the chartering process. With 100's of mutual customers, it just makes natural sense to combine their data within our chartering and analytical tool ecosystem. This unparalleled combination will advance the competitive edge our clients have using AXSMarine solutions in a fast-evolving space."
Mark Jackson, Baltic Exchange's CEO said: "AXSMarine's solutions are widely adopted worldwide and highly respected for their early and strong contribution in digitizing our shipping markets. We are delighted to collaborate. This partnership adds value to AXSMarine users and increases the footprint of The Baltic Exchange as the world's leading source of independent maritime market data."
AXSMarine's software solutions deliver remarkable efficiency to commercial chartering processes in Dry, Tanker, and Containership chartering. These products provide a suite of modules, which allow shipping executives to fully analyse their commercial and operational activities. All web-based, services are accessible from any computer, anywhere; without additional downloads or installation.
Latest News
(Posted on 07/12/23)
ClassNK has issued Approvals in Principle (AiPs) for four cutting-edge ship designs developed by Marine... Read more
(Posted on 07/12/23)
A smartship partnership bringing together ship management company Laskaridis Shipping, digital technology... Read more
(Posted on 07/12/23)
ABB has launched a new digital tool allowing shipowners, operators and designers to estimate the emission... Read more
(Posted on 03/12/23)
The Dry Bulk and LNG segments have borne the brunt of restricted transits, particularly due to their... Read more
(Posted on 03/12/23)
Columbia Shipmanagement (CSM) is set to further boost operational efficiency on its vessels, as crew... Read more
(Posted on 26/11/23)
Shi.E.L.D. Services has selected Spinergie as its preferred digitized solution provider to monitor and... Read more
(Posted on 26/11/23)
Thousands of cadets and trainees in India will benefit from in-depth wellness training and support thanks... Read more
(Posted on 17/11/23)
As shipping continues its journey to decarbonisation, INTERCARGO will host a special forum in Athens... Read more
(Posted on 13/11/23)
INTERCARGO was deeply saddened and concerned to hear of the reported appalling missile attack on the... Read more
(Posted on 13/11/23)
A new-look Wellness at Sea Awareness Campaign for seafarers, their families and shore staff that &ldquo... Read more