Australian woodchip exports soar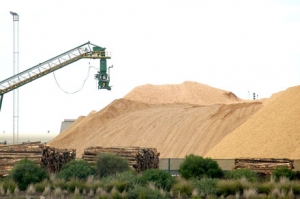 (Posted on 27/11/18)
Assistant Minister for Agriculture and Water Resources, Senator Richard Colbeck, welcomed the continued growth in the forestry sector as outlined in the Australian Bureau of Agricultural and Resource Economics and Sciences (ABARES) report.
Minister Colbeck said the forestry sector was experiencing a strong surge in confidence and was benefitting from regulatory certainty and growing global demand for sustainable product.
"The Australian forestry industry continues to provide more jobs, exports and sustainable products for Australian and global consumers," Minister Colbeck said.
"The Coalition Government continues to enable a strong resurgence in the forest and wood products industry, with the industry growing 4.4 per cent to $8.8 billion in 2016–17.
"The value of woodchip exports, in particular, has soared to a record $1.3 billion in 2017–2018, a 6.1 per cent increase from the year before.
"Paper and paperboard exports also increased by 5.8 per cent to $962 million, driven by a massive 33.9 per cent growth in the value of newsprint exports.
"Global demand for timber and timber products is projected to quadruple by 2050 and the Coalition Government has delivered a National Forest Industries Plan to take advantage of this, which includes the planting of a billion new trees over the next decade.
"The Coalition Government will also establish Regional Forestry Hubs based in leading production zones to drive strategic development and research opportunities in regional Australia.
"20 year rolling extensions to the Regional Forestry Agreements are providing long-term certainty across the country, with the Tasmanian agreement already signed and other states set to follow.
"Exciting opportunities also exist with the recent release of the national standard for the Forest Stewardship Council certification to go with our existing Australian standard of the 'Responsible Wood' certification.
"Consumers and communities can be confident that Australia's forestry and wood products industry continues to grow as a preferred supplier of sustainable timber products both here and around the world."
Latest News
(Posted on 26/09/23)
Vale has announced that it signed a MOU with the Port of Açu to study the development of a Mega... Read more
(Posted on 26/09/23)
The European Soy Monitor 2021 has been published, containing an overview of estimations on the use of... Read more
(Posted on 19/09/23)
BHP contributed $60 billion (AUD) in economic value to the Australian economy in the 2023 financial... Read more
(Posted on 19/09/23)
BHP contributed $60 billion (AUD) in economic value to the Australian economy in the 2023 financial... Read more
(Posted on 19/09/23)
Trafigura Group Pte Ltd. has announced an evolution of its executive team to further strengthen leadership... Read more
(Posted on 12/09/23)
The Food and Agricultural Organisation of the United Nations (FAO) forecast for global cereal production... Read more
(Posted on 08/09/23)
Rio Tinto has appointed Jérôme Pécresse to lead its Aluminium business, succeeding... Read more
(Posted on 04/09/23)
The Environmental Protection Agency (EPA) and the Army Corps in the USA have announced the final definition... Read more
(Posted on 28/08/23)
Despite the many and varied categories of cargo damage faced by shipowners transporting grain cargoes... Read more
(Posted on 28/08/23)
Rio Tinto and First Quantum Minerals have completed a transaction to form a joint venture that will... Read more