Australian grain growers welcome Ag Visa despite tight timing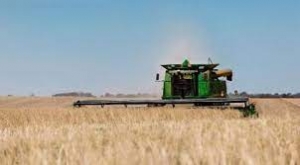 (Posted on 27/08/21)
GrainGrowers has welcomed the announcement by Australia's Federal Government to deliver a dedicated agriculture specific visa (Ag Visa), although with headers expected to start rolling at the end of September, timing will be tight.
GrainGrowers is a leading voice for Australian grain farmers, representing their interests at a national and international level.
While the Ag Visa as announced by Minister Littleproud will widen the recruitment opportunities for an uncapped number of low to highly skilled workers from ASEAN countries operational from 30 September 2021, northern hemisphere countries are critical for the grains industry.
"In GrainGrowers' recent policy survey, growers across Australia told us that labour and skills shortages are one of their biggest challenges and an issue for their enterprise," said Brett Hosking, GrainGrowers Chair.
"For growers, an Ag Visa needs to be accessible to those who are qualified and have experience in grains related jobs. The Visa announced today is great news and we thank Minister Littleproud for his commitment to agriculture and hope to see it broaden to other eligible countries where our grains workforce traditionally come from, like those in the Northern Hemisphere."
Agriculture has a goal of reaching $100 billion per annum by 2030 but to do so, it needs the workforce to support it.
"With a bumper harvest expected for many, we need to ensure there is an international solution especially with the current state border restrictions exacerbating labour problems for farmers," said Hosking.
"State and Federal Government need to put aside their differences, work together collaboratively and offer consistent messages to ensure that agriculture's essential workers can do their jobs."
"Australian growers employ both domestically and internationally and need the variety of skills and experience that these labour pools have to offer. With growers optimistic about the season ahead there is a unique opportunity for those from home as well as overseas to get involved in Australian Ag's best industry".
Latest News
(Posted on 24/03/23)
BHP and global engineering, project management and professional services firm, Hatch, have signed an... Read more
(Posted on 20/03/23)
Rio Tinto increased its spend with Australian suppliers to more than A$15.3 billion in 2022, as part... Read more
(Posted on 20/03/23)
Trafigura Group Pte Ltd., a market leader in the global commodities industry, has announced the closing... Read more
(Posted on 07/03/23)
Nexyst 360, an innovative grain transportation solution provider, has partnered with Nexxiot to digitalize... Read more
(Posted on 28/02/23)
Cargill has announced the appointments of Joanne Knight as Chief Financial Officer (CFO) and Philippa... Read more
(Posted on 24/02/23)
Trafigura, a market leader in the global commodities industry, has entered into a USD 500 million five... Read more
(Posted on 22/02/23)
British Steel has announced proposals to close its coke ovens as part of its drive to overcome global... Read more
(Posted on 20/02/23)
Global miner Rio Tinto and Japanese trader and business conglomerate Marubeni Corporation have agreed... Read more
(Posted on 20/02/23)
Trafigura, a market leader in the global commodities industry, and Ecobat, the global leader in battery... Read more
(Posted on 13/02/23)
Hydrogen is at the core of the green steel transition. Ensuring access to this scarce resource &ndash... Read more