Aumund supplies US iron plant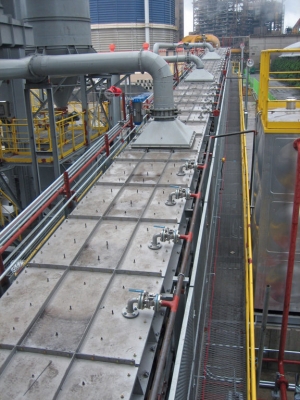 (Posted on 24/04/18)
In December 2018, Aumund Fördertechnik will dispatch an HBI evaporation cooler system to Cliffs, the operator of a Hot Briquetted Iron (HBI) Plant in Toledo, Ohio, USA. Aumund's patented technology consists of two FPB-K pan conveyors with centre distances of 72m. Cleveland-Cliffs is constructing a new HBI works at this location close to Lake Erie.
The greenfield project will utilise the existing port infrastructure on Lake Erie, and Midrex was selected as general contractor to supply the direct reduction plant.
German conveying equipment specialist Aumund, as subcontractor to Midrex, is supplying one of the most important elements of the whole process, the HBI cooling lines. The decision-makers involved in the project have given their vote of confidence to the evaporation cooling process patented by Aumund. In this HBI-Slow-Cooling process, the HBI product to be conveyed is cooled from 750 to 90 degrees Celsius in a process which protects the integrity of the product. Aumund guarantees a handling throughput of up to 285t/hr at a nominal conveying capacity of 142t/hr.
The first installation of its kind was successfully completed by Aumund in Venezuela in 2006. After this pilot project, Aumund won further HBI orders in Russia and the United States. "Today, after constant optimisation of details, the technology has reached such a state of maturity that both operators and general contractors increasingly favour the Aumund solution over traditional methods", says Aumund's Sales Director Metallurgy, Matthias Moritz.
Cleveland Cliffs Inc. is one of the largest iron ore producers in the USA, with mines and pelleting plants in Michigan and Minnesota, as well as in Western Australia.
The new mobile Samson Material Feeder will receive bulk fertilizers and grain direct from 45 tonne tipping trucks and will discharge onto an ongoing Samson Shiploader at a peak output rate of 625m³ per hour. This Material Feeder will complement the existing Samson Shiploader with twin Samson Feeders which has been active at the Port of Sillamae, Estonia, since 2015 and another Samson Shiploader supplied a few years earlier.

The mobile Samson Feeder includes a 3m wide rubber belted apron design unit mounted on a steel structure and supported by double apron bars located at every pitch of the conveyor chain. To accommodate a variety of trucks and loaders the universal entry point includes a 4.5m wide flared entry section thus increasing the volume of the feeder entry and reducing vehicle alignment time.
As fertilizers and grain are free-flowing materials this material feeder is fitted with a cross-cleat belt for material adherence during transfer. The discharge chute and all possible hose ends, couplings and bolting are in stainless steel to prevent against corrosion and provide longevity when handling fertilizers.
The Samson Feeder has forward mounted wheel units and is towable using the access ramps. For ship loading the unit can be positioned at a 180° arc around the Shiploader reception hopper.
The modular design of the Samson Feeder allows for easy containerised transportation to the client's site.
Latest News
(Posted on 19/11/22)
Bruks Siwertell is developing an advanced digital tool, Siwertell Smartview, as part of an ongoing research... Read more
(Posted on 19/11/22)
Superior Industries, Inc., a US-based manufacturer and global supplier of bulk material processing and... Read more
(Posted on 13/11/22)
Insufficient knowledge of seamanship and navigation when taking a ship out to sea or coming alongside... Read more
(Posted on 13/11/22)
Superior Industries, Inc., a US-based manufacturer and global supplier of bulk material processing and... Read more
(Posted on 09/11/22)
Located in the southern part of Norway between Larvik and Kristiansand, the Port of Arendal is the biggest... Read more
(Posted on 02/11/22)
Fugro and AD Ports Group have formalised a collaborative relationship through the signing of an agreement... Read more
(Posted on 26/10/22)
Survitec's Maritime Protection brand has registered a significant increase in orders for Inert... Read more
(Posted on 26/10/22)
Mc Energy and Damen Services have signed a collaboration agreement in Ridderkerk, the Netherlands. Together... Read more
(Posted on 20/10/22)
Two Liebherr mobile harbour cranes, an LHM 280 and LHM 550 have been installed at the Port of Dover... Read more
(Posted on 20/10/22)
The global maritime industry is making significant progress in the fight to reduce ship greenhouse gasses... Read more