AtoB@C Shipping confirms additional electric hybrid vessel order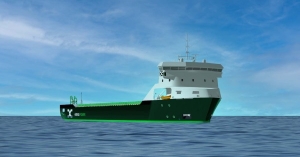 (Posted on 01/07/22)
AtoB@C Shipping, a subsidiary of Aspo Group's ESL Shipping, has declared an option and order for the first additional vessel from the Indian shipyard Chowgule & Company Private Limited, from which the shipping company has previously ordered six identical electric hybrid vessels, as announced in September 2021.
In connection with the forthcoming series of new-generation electric hybrid vessels and additional vessel options, ESL Shipping is preparing to start a long-term pooling partnership together with a group of investors consisting of institutional and private investors. The pooling structure is a model commonly used in the international shipping business for the ownership and operation of vessels, and it is introduced to accelerate the growth, profitability and return on capital of ESL Shipping's business.
The first two of the new generation of energy-efficient hybrid electric vessels are already under construction, and the planned delivery of the first vessel is scheduled for the third quarter of 2023.
AtoB@C Shipping AB with its head office in Ystad, Sweden and branch offices in Norrköping and Raahe, Finland is a ship operator and logistics company founded in 2000. The company currently operates a fleet of 33 well maintained, ice classed, modern and multipurpose vessels in 3,000-6,000 dwt segment. In addition, the company operates tug Charlie which is based in Raahe, Finland.
Latest News
(Posted on 31/03/23)
In line with Norden's 2023-2025 strategy to capitalise on the most attractive opportunities in... Read more
(Posted on 31/03/23)
American Bureau of Shipping, A.P. Moller - Maersk, Fleet Management Limited, Georgia Ports Authority... Read more
(Posted on 31/03/23)
Although news teams might have moved on to other locations and different crises, for those Turks and... Read more
(Posted on 28/03/23)
The board of Oldendorff Carriers, has appointed Patrick Hutchins as the new President and CEO of the... Read more
(Posted on 28/03/23)
The Swedish Club is looking to the future with the expansion and restructuring of the Club's management... Read more
(Posted on 24/03/23)
One Sea has welcomeed Finnish start-up Groke Technologies as its new member, bringing additional expertise... Read more
(Posted on 24/03/23)
ClassNK has released "FAQs on the EU-ETS for Shipping", an overview and necessary preparation... Read more
(Posted on 20/03/23)
AXSMarine, a pioneer and market leader in the provision of advanced solutions for shipping professionals... Read more
(Posted on 20/03/23)
Shipzero is enabling transport and logistics companies to create transparency about their emissions... Read more
(Posted on 07/03/23)
The Isle of Man Ship Registry (IOMSR) has become an associate member of The International Association... Read more