Asyad Drydock shows advanced capabilities applying eco-friendly coating to Ultramax bulker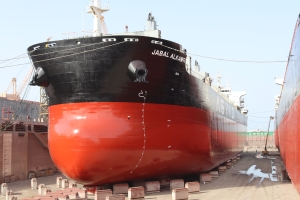 (Posted on 10/07/23)
Asyad Drydock, part of Asyad Group, has announced the successful application of high-quality nano-epoxy coating on Asyad Shipping's Ultramax bulk carrier, Jabal Al Kawr. The brand-new coating technology was applied for the first time in the Middle East, and the second globally, on Minoa Marine's MV Julia earlier this year at Asyad Drydock's world-class facilities in Duqm, Oman.
Capitalizing on Asyad Drydock's premium ship-servicing capabilities and state-of-the-art technologies, Asyad Shipping commissioned the application of the eco-friendly nano-epoxy silicone coating solution on its Ultramax bulk carrier, Jabal Al Kawr. This undertaking highlights Asyad Shipping's commitment to developing a modern shipping fleet that adheres to the highest international standards of efficiency and sustainability. The successful engagement also showcases Asyad Drydock's ability to execute tailored projects in line with customers' strict requirements and deadlines.
Asyad Drydock spearheaded the regional application of the revolutionary coating solution, successfully premiering the novel coating solution on Minoa Marine's MV Julia earlier this year. The coating was applied following a full Sa 2.0 abrasive blasting surface treatment which was administered for the first time on the MV Julia at Oman's world-class shipyard in Duqm.
The abrasion-resistant nano-epoxy silicone coating, which promises to be the future of coating solutions, features many economic and environment-friendly advantages, significantly reducing drag, increasing fuel efficiency and lowering carbon emissions, all while ensuring that less maintenance work is required during subsequent dockings. Additionally, the smooth nano-epoxy silicone coating is resistant to fouling without the need to use biocides, thereby reducing impact on the marine environment.
Dr. Abdulsalam Al Rabaani, Acting COO of Asyad Drydock, underlined the shipyard's role in introducing the new coating solution to the Middle East maritime sector: "Being the first drydock to apply nano-epoxy silicone coating in the MENA region is a testament to our advanced ship-servicing capacities and ability to integrate the latest innovations in the industry, as we forge ahead in our pursuit of partnerships with top green solution providers."
"We are extremely excited to add this novel technology to our host of offerings, allowing us to better serve our clients and cater to their various requirements. Our collaboration with Asyad Shipping also shows both of our companies' synergy and commitment to sustainability, in line with Asyad Group's strategy of enabling the transition to a sustainable maritime future," Dr. Al Rabaani added.
With the addition of nano-epoxy silicone coating, Asyad Drydock now boasts a wide array of top coating solutions within its inclusive offering of ship building and repair services. Simultaneously, Asyad Shipping is maintaining its drive towards developing a modern fleet that meets the highest standards of efficiency. Both Asyad Group arms continue to pursue the latest technologies that advance sustainability objectives, in line with Asyad's mission to cement Oman's standing as a sustainable global logistics hub leading the drive for a green maritime future.
Latest News
(Posted on 07/12/23)
In an initiative set to be transformational for ship design while protecting the oceans from pollution... Read more
(Posted on 03/12/23)
Ship design, particularly the design of bulk carriers, presents particular challenges when it comes... Read more
(Posted on 26/11/23)
VIKING Life-Saving Equipment, a global leader in maritime safety solutions, is launching an innovative... Read more
(Posted on 26/11/23)
Damen's client Gerdes Green has received a subsidy from the German Government for the investment... Read more
(Posted on 17/11/23)
A first of its kind training course for the Middle East has been held to teach mariners about the basic... Read more
(Posted on 13/11/23)
Wärtsilä ANCS, part of technology group Wärtsilä, has delivered to Seaspan, a marine... Read more
(Posted on 31/10/23)
The flag raising ceremony for three new ASD Tugs has taken place in Gdansk, Poland. In the presence... Read more
(Posted on 26/10/23)
A new immersive crane simulator that can recreate high-risk scenarios without putting drivers or other... Read more
(Posted on 23/10/23)
Vesto Ropes, a global leader in innovative steel wire-rope solutions, has announced a strategic partnership... Read more
(Posted on 23/10/23)
Bedeschi S.p.a. has been awarded a contract for the design and supply of a new longitudinal storage... Read more