ArcelorMittal halts Ukrainian steelmaking operations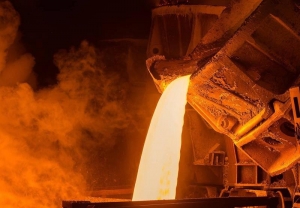 (Posted on 04/03/22)
ArcelorMittal has confirmed it has taken the decision to idle its steelmaking operations in Kryvyi Rih, Ukraine in order to ensure the safety and security of its people and assets.
The Company has been evaluating the situation on a daily basis and production had previously been reduced with the plant operating at a technical minimum (approximately one-third of its normal production levels).
The process to idle all blast furnaces has commenced. The process to safely idle these assets while maintaining asset integrity will take between seven and ten days.
ArcelorMittal is deeply concerned about the situation in Ukraine and the threat to employees and the entire Ukrainian population.
ArcelorMittal is the world's leading steel and mining company, with a presence in 60 countries and primary steelmaking facilities in 17 countries. In 2020, ArcelorMittal had revenues of $53.3 billion and crude steel production of 71.5 million metric tonnes, while iron ore production reached 58.0 million metric tonnes.
?
Latest News
(Posted on 24/03/23)
BHP and global engineering, project management and professional services firm, Hatch, have signed an... Read more
(Posted on 20/03/23)
Rio Tinto increased its spend with Australian suppliers to more than A$15.3 billion in 2022, as part... Read more
(Posted on 20/03/23)
Trafigura Group Pte Ltd., a market leader in the global commodities industry, has announced the closing... Read more
(Posted on 07/03/23)
Nexyst 360, an innovative grain transportation solution provider, has partnered with Nexxiot to digitalize... Read more
(Posted on 28/02/23)
Cargill has announced the appointments of Joanne Knight as Chief Financial Officer (CFO) and Philippa... Read more
(Posted on 24/02/23)
Trafigura, a market leader in the global commodities industry, has entered into a USD 500 million five... Read more
(Posted on 22/02/23)
British Steel has announced proposals to close its coke ovens as part of its drive to overcome global... Read more
(Posted on 20/02/23)
Global miner Rio Tinto and Japanese trader and business conglomerate Marubeni Corporation have agreed... Read more
(Posted on 20/02/23)
Trafigura, a market leader in the global commodities industry, and Ecobat, the global leader in battery... Read more
(Posted on 13/02/23)
Hydrogen is at the core of the green steel transition. Ensuring access to this scarce resource &ndash... Read more