American Shipowner opts for WE Tech's energy efficiency solution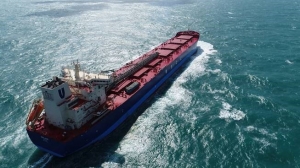 (Posted on 21/06/18)
The American Shipowner Vulica Shipping has chosen WE Tech Solutions to provide the energy efficiency solution to its two 68000dwt Self-Unloader Bulk Carriers. The vessels were constructed by Jiangsu Hantong Shipyard, China and classed by LIoyd's Register. The first vessel was named in M/V Ireland and was delivered to Vulica Shipping on March 2018. The second one was named in M/V Donald M. James and was smoothly delivered to the owner on 8th May 2018.
WE Tech is a leading energy efficiency solution provider with a global presence in the marine industry. The company specialises in ship hybridisation based on variable frequency drives and permanent magnet technologies.
WE Tech delivered Solution One (Economic Operation Solution) together with direct drive permanent magnet shaft generator to the two Bulk Carriers. "We made a wise choice by utilising WE Tech's innovative technology and energy efficiency solution on board. It will bring significant changes from the traditional system, in terms of operation performance, fuel consumptions and environmental protection", the general manager of Vulica Shipping, Mr Atul Sabharwal states, "This is the cheapest and quietest form of power generation on board and capable of carrying the full sea load of the vessel. The shaft generator is very steady within the designed rpm range."
WE Tech's variable speed permanent magnet shaft generator solution consists of the variable frequency drive WE Drive™ and the permanent magnet shaft generator. WE Drive™ has compact modular design and dedicated power management system. It can be operated alone or in parallel with auxiliary generators. The permanent magnet shaft generator contains Neodymium-Iron-Boron magnets with a very high flux density, thus it is more compact, lighter in weight and smaller in size.
The Direct Drive Permanent Magnet Shaft Generator solution utilises the most efficient generator type available in the market. The solution significantly decreases the vessels fuel consumption, operation expenditure and maintenance cost by turning off the Auxiliary generator during sailing. In Power Take Out (PTO) mode, electrical power is generated with shaft generator driven by the highly efficient two-stroke main engine which also drive the main propeller of the vessel. Tons of fuels are saved every day, which significantly reduces the harmful emissions to the environment.
"We look for ways to improve energy efficiencies and increase the vessel's competitiveness in each case. This is becoming more critical today, as maritime vessels come under scrutiny of environmental regulators and look for innovative ways to be more efficient with their fuel consumption," the Managing Director of WE Tech Solutions, Mr Mårten Storbacka said.
WE Tech has been the expert in developing energy efficiency solutions since 2010 and delivered solutions to vessels that operate in the global shipping industry or is under construction. All the solutions that have been developed by WE Tech are highly environmental-sustainable. These solutions are considered in setting new standards for the industry and leading the future of global shipping, providing numerous benefits for new builds and existing ship upgrades worldwide.
Latest News
(Posted on 20/03/23)
Thordon Bearings is supplying its grease-free, self-lubricating ThorPlas-Blue bearing material to a... Read more
(Posted on 20/03/23)
French water treatment specialist BIO-UV Group has appointed Laurent-Emmanuel Migeon as its new Chairman... Read more
(Posted on 07/03/23)
With Wärtsilä's CII Dashboard, Anglo-Eastern is now able to make better informed decisions... Read more
(Posted on 07/03/23)
Bruks Siwertell has completed the commissioning of two large-scale Siwertell ST 790-D-type ship unloaders... Read more
(Posted on 28/02/23)
A consortium including technology group Wärtsilä has secured European Union funding to develop... Read more
(Posted on 28/02/23)
Bruks Siwertell has received an order for a next-generation Siwertell road-mobile ship unloader from... Read more
(Posted on 24/02/23)
Global Survival Technology solutions provider Survitec has introduced a new, formalised pre-inspection... Read more
(Posted on 24/02/23)
The slightest deviation in the machining, polishing, and finishing of ships' propeller blades... Read more
(Posted on 20/02/23)
Bühler expanded its business and improved profitability in an uncertain and volatile business environment... Read more
(Posted on 20/02/23)
Wärtsilä plans to further focus on end-to-end voyage optimisation and to move part of Voyage... Read more