Amer Shipping orders two bulk carriers from Concordia Damen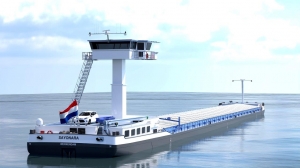 (Posted on 06/02/23)
Inland shipping construction yard Concordia Damen will deliver two 'CDS Dry Cargo 110' vessels to Amer Shipping. Sustainability considerations and the hull shape of this in-house developed ship type were the deciding factors, partly because it allows skippers to sail longer at (very) low water levels, which is predicted to occur often in the coming years.
Amer Shipping already has a fleet of 57 vessels, including owned tankers, dry cargo and container vessels as well as associated ships. The company transports approximately 8 million tons of cargo per year, mainly raw materials for construction projects and project cargo for various industries. Amer Shipping is mainly active in the Netherlands, Belgium, Germany and Switzerland and is now expanding and adapting its fleet to put its sustainability commitment into practice.
Inland shipping entrepreneur Peter Buijks, co-owner of Amer Shipping, says: "We have been working on making our daily operations more sustainable for some time now. New ships must match this effort. These two bulk carriers are based on Concordia Damen's Parsifal tankers and a lot of research has been done on them, such as speed versus fuel consumption, resistance and future adaptability. For example, we'll install Stage V engines and shaft generators. Our customers are increasingly looking at their CO2 emissions. In order to continue to serve them well, we are developing ourselves along with this trend and are looking at various options to reduce our footprint. These ships fit in well with goal."
This ship type measures 110 x 11.45 meters and can transport a lot of tonnage at a low draft, which is especially beneficial at low tide and shallow water levels. In addition, the ship has a relatively small footprint, because it can sail faster with lower fuel consumption due to its low resistance. "The design of the lower section is the same as that of our Parsifal Tankers," says Pieter Baggerman, Naval Architect at Concordia Damen. "That type has an optimized hull shape. It works really well and so we have applied the same design principles to our container and bulk carriers and with the same results."
That was also decisive in the choice that Amer Shipping made for their newbuilds. Peter Buijks: "The CDS Dry Cargo 110 transports no less than 200 tons more cargo compared to an existing '110' in our fleet. At the same time, fuel consumption and emissions are reduced due to the low resistance. In addition, we can continue sailing with it for longer periods in water levels of 1.15 meters, although the ship is of course not fully loaded in those circumstances. That gave us the confidence to contract these vessels. Moreover, in Germany there are not only draft restrictions, but also many waterways spanned by low bridges. Due to the favourable air draught of these ships, we can sail under bridges of 4.30 meters with a draft of 2.50 metres. This way we can continue to do business in a responsible manner in different circumstances."
Baggerman: "Both family businesses have known each other for a long time. We are very grateful to welcome Amer Shipping and the Buijks family as a new customer! The favourable 'speed-power curve' created by the hull shape and the fact that the design leaves room for adjustments based on the customer's wishes, makes for a good business case. This also applies to the type of propulsion: you can adjust that quite easily at a later stage if market developments or regulations require it. And what was really important to Amer Shipping: short delivery times. Since we started building some of our proven designs in stock, we can deliver faster. In this case, we expect deliveries in June and the end of 2023."
Concordia Damen's core business is to design and build inland vessels with an innovative and cost-effective profile, primarily for customers in Western Europe and South America.
Latest News
(Posted on 19/09/23)
Seven months after its formal launch, NorthStandard is already realizing tangible benefits from combining... Read more
(Posted on 12/09/23)
Maritime nuclear technology company CORE POWER has boosted its Global Advisory Board with four new high... Read more
(Posted on 12/09/23)
Foreship has relocated its UK subsidiary to larger premises and appointed Tuur Killaars as Senior Sustainability... Read more
(Posted on 08/09/23)
Classification society DNV has signed a Memorandum of Understanding (MoU) with Singapore-based ship... Read more
(Posted on 08/09/23)
Leading blended learning provider Intelligent Seas Group (ISG) is delighted to announce its collaboration... Read more
(Posted on 04/09/23)
Record year-on-year declines in rainfall has been identified as the 'likely culprit' for... Read more
(Posted on 04/09/23)
After years of keeping a vital navigation service operating on the same income, Middle East Navigation... Read more
(Posted on 28/08/23)
Torvald Klaveness and Lauritzen Bulkers, leading global dry bulk shipping companies, have announced... Read more
(Posted on 28/08/23)
Norwegian companies OSM Thome and Pherousa Green Shipping AS (referred to as "PGS") have entered into... Read more
(Posted on 18/08/23)
Tomini Shipping, a world class dry bulk ship owner, has reached yet another milestone in their expansion... Read more