Aluminium use expected to grow until end of decade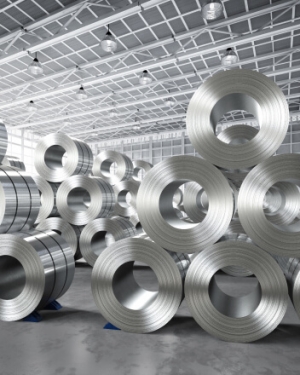 (Posted on 18/04/23)
A new survey of automakers and Tier 1 suppliers conducted by Ducker Carlisle concludes that as electric vehicles continue to enter the mass market, aluminium demand will grow through the end of the decade. The report, "2023 North American Light Vehicle Aluminium Content and Outlook," released today by the Aluminium Association indicates that demand for more sustainable transportation will help drive an increase in market share for aluminium content by nearly 100 net pounds per vehicle (PPV) from 2020 to 2030.
"Consumers want cars and trucks that are more sustainable, more electrified and filled with more technology, and automakers are responding with a host of innovations, all enabled by high-strength, low weight and infinitely recyclable aluminium," said Mike Keown, chair of the Aluminium Transportation Group and CEO of Commonwealth Rolled Products. "The aluminium industry is committed to ensuring consumers experience the performance and environmental benefits of aluminium as more and more vehicles are designed with the metal in the years ahead. Greater collaboration with automakers will bring to life this vision, set forth by the aluminium industry in its 10-year roadmap. And as mega-casting and closed-loop recycling continue to advance, aluminium producers remain vital partners in helping automakers achieve aggressive carbon neutral targets."
The report, which reflects data collected during an 8-month period through interviews with leading automakers, Tier 1 suppliers and aluminium producer companies, identifies five key market themes:
Proliferation of BEVs will dramatically change the NA light vehicle landscape. BEV share of production nearly doubled from just under 3% in 2020 to approximately 6% in 2022. By 2030, BEVs, which on average are more aluminium-intensive, are expected to exceed 36% share of production.
Trend toward larger vehicles that have more aluminium content per vehicle. Consumers affinity toward larger vehicles continues, helping drive increased aluminium growth. In 2022, light trucks outnumbered cars four to one and contained more than 30% more aluminium than cars.
Aggressive CO2 and Miles Per Gallon (MPG) regulatory targets helping drive EV adoption and aluminium growth. Recent federal regulation ushering in more stringent CO2 and MPG targets expected for 2027 to 2030 incentivizes EV adoption and helps further drive aluminium growth.
Aluminium content per vehicle continues its uninterrupted growth. A net gain of 56 pounds per vehicle is expected between 2020 and 2025 with aluminium growing by almost 100 net PPV between 2020 and 2030 to 550 PPV, a 233% increase over 1990, when aluminium accounted for just 165 PPV.
Near term aluminium growth led by extrusions and sheet. Extrusions demonstrate significant growth within the body-in-white (BIW) and crash management systems (CMS) gaining 47 pounds per vehicle from 2020 to 2030, becoming the fastest growing product form, while auto body sheet (ABS) and sheet for thermal management systems will increase 41 PPV from 2020 to 2030. Castings remain the largest aluminium product form, but growth is limited as powertrain and transmission components are replaced by e-drives, battery housings, high-voltage devices, etc.
"Electrification positively affects aluminium content and compensates for the transition away from powertrain and transmission components, which are primarily aluminium," said Abey Abraham, principal of automotive and materials at Ducker Carlisle. "As electrified powertrains create significant growth opportunities for aluminium, more stringent fuel economy standards also continue to promote mass reduction in ICE vehicles."
Latest News
(Posted on 07/12/23)
Rio Tinto has approved a $77 million (A$110 million) pre-feasibility study (PFS) to progress development... Read more
(Posted on 03/12/23)
Rio Tinto and Giampaolo Group have completed a transaction to form the Matalco joint venture, combining... Read more
(Posted on 03/12/23)
Khalifa Economic Zones Abu Dhabi – KEZAD Group, the largest operator of integrated and purpose... Read more
(Posted on 26/11/23)
ADM, a leader in sustainable agriculture supply chains, has announced an important expansion of its... Read more
(Posted on 17/11/23)
Trafigura, a market leader in the global commodities industry, has agreed to invest in an all-in-one... Read more
(Posted on 17/11/23)
ADM and Marathon Petroleum Corp. have celebrated the opening of their joint venture soybean processing... Read more
(Posted on 13/11/23)
Former U.S. Grains Council (USGC) Director of Global Programmes Alejandra Castillo was named the successor... Read more
(Posted on 13/11/23)
Rio Tinto has completed the acquisition of PanAmerican Silver's stake in Agua de la Falda and... Read more
(Posted on 05/11/23)
Cargill has completed an expansion and modernization project at its integrated soybean crush and refined... Read more
(Posted on 31/10/23)
BHP has approved an investment of US$4.9 billion (C$6.4 billion) for stage two of the Jansen potash... Read more