Algoma takes delivery of latest Equinox Class bulker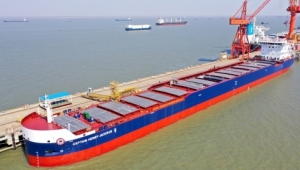 (Posted on 06/04/21)
Algoma Central Corporation, a leading supplier of marine transportation services, has announced that it has taken delivery of the Captain Henry Jackman, the fifth Equinox Class gearless dry-bulk carrier and the tenth Equinox Class vessel to join the fleet. The ship is expected to begin her voyage to Canada from the Jiangsu Yangzi-Mitsui Shipbuilding Company in China in mid-April. The vessel will cross the Pacific Ocean near the equator, transit through the Panama Canal and from there will make her way to Canada. The vessel is expected to begin trading on the Great Lakes in late June.
The Captain Henry Jackman is the most efficient vessel in Algoma's domestic fleet. The vessel's design, which we describe as "Equinox 3.0", is an evolution of the original Equinox Class, incorporating improvements in cargo deadweight capacity and equipment while maintaining the numerous performance efficiencies of the original design. These improvements include innovations such as lighter weight aluminium hatch covers and the adoption of an improved twin rudder design that significantly increases the displacement of the vessel and enables the ship to achieve increased cargo capacity without requiring an increase in the vessel's power and fuel consumption. The result is an estimated 1,200MT increased deadweight of the ship, furthering the vessel's advantage in minimizing greenhouse gas emissions compared to competing transportation modes. As with all Equinox Class ships, the Captain Henry Jackman has a closed loop exhaust gas scrubber.
"The domestic dry-bulk segment has been our core business for over 100 years and we have invested over $500 million in sustaining that business since the launch of the Equinox Class fleet renewal plan in 2010," said Gregg Ruhl, President and CEO of Algoma. "The arrival of the Captain Henry Jackman on the Great Lakes will be a proud moment for Algoma as we introduce our tenth and most efficient Equinox Class vessel yet, making us more than ever your marine carrier of choice," continued Mr. Ruhl. "I would like to thank everyone from the team in China to our team here in Canada for their hard work and dedication in making this possible in the face of a global pandemic. I would also like to wish the crew on board safe sailing; let's bring her home," concluded Mr. Ruhl.
Algoma, owns and operates the largest fleet of dry and liquid bulk carriers operating on the Great Lakes – St. Lawrence Waterway, including self-unloading dry-bulk carriers, gearless dry-bulk carriers, cement carriers and product tankers. Algoma also owns ocean self-unloading dry-bulk vessels operating in international markets and a 50% interest in NovaAlgoma, which owns and operates a diversified portfolio of dry-bulk fleets serving customers internationally.
Latest News
(Posted on 26/11/23)
Shi.E.L.D. Services has selected Spinergie as its preferred digitized solution provider to monitor and... Read more
(Posted on 26/11/23)
Thousands of cadets and trainees in India will benefit from in-depth wellness training and support thanks... Read more
(Posted on 17/11/23)
As shipping continues its journey to decarbonisation, INTERCARGO will host a special forum in Athens... Read more
(Posted on 13/11/23)
INTERCARGO was deeply saddened and concerned to hear of the reported appalling missile attack on the... Read more
(Posted on 13/11/23)
A new-look Wellness at Sea Awareness Campaign for seafarers, their families and shore staff that &ldquo... Read more
(Posted on 05/11/23)
Classification society DNV has entered into a Joint Development Project (JDP) with AL Group and its... Read more
(Posted on 31/10/23)
Samsung Heavy Industries (SHI) and leading classification society DNV have inked a Memorandum of Understanding... Read more
(Posted on 31/10/23)
WISTA International, during its Annual General Meeting (AGM) held in Montevideo, Uruguay, on 25 October... Read more
(Posted on 31/10/23)
Members of INTERCARGO met in Athens last week for the Association's Annual General Meeting, Executive... Read more
(Posted on 26/10/23)
The Columbia Group (Columbia) has opened a new manning agency, Columbia Shipmanagement Vietnam (CSM... Read more