Alfa Laval invests in air lubrication for sustainable shipping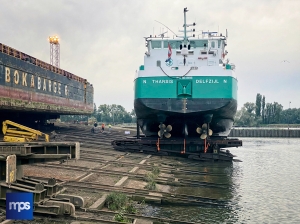 (Posted on 11/07/21)
Air lubrication for marine vessels is a developing solution that will radically reduce fuel consumption and environmental impact. Having acquired a minority stake in Marine Performance Systems B.V., a Rotterdam-based maritime technology company, Alfa Laval will be instrumental in making this long-sought technology a commercial reality.
The idea of using bubbles to reduce a vessel's friction – which is the largest driver of fuel consumption as it moves through the water – has existed for well over a century. Nonetheless, it has taken time to realize. Alfa Laval has chosen to invest in Marine Performance Systems, whose unique method of producing bubbles with fluidics is a breakthrough that will reduce fuel consumption by 8–12% at a vessel's normal service speed.
"The use of fluidics creates a larger air layer of superior quality," says Frode Lundsteen Hansen, who founded Marine Performance Systems in 2018 with innovators Pieter Kapteijn and Fulko Roos. "Our FluidicAL technology enables truly effective air lubrication, with immediate environmental benefits and substantial savings for shipowners. Alfa Laval shares our belief that this technology will facilitate the transition to green shipping."
"The investment brings Alfa Laval full circle, since air lubrication technology for marine vessels was first pursued and patented by our founder Gustav de Laval in 1883," says Sameer Kalra, President, Alfa Laval Marine Division. "The technology did not result in any product in his time, but our founder's vision has new importance today. Air lubrication will smooth the marine industry's path to a sustainable future."
By reducing the amount of fuel burned, air lubrication will have a direct effect on greenhouse gas emissions. In addition, it will provide critical fuel cost savings for shipowners, who need to offset the expense of rapidly shrinking their environmental footprint.
"Fleets cannot be replaced overnight, so existing vessels will need to rely on clean-burning fuels to lower their emissions," Lundsteen Hansen explains. "In a low-margin industry where fuel represents up to 60% of a shipowner's costs, the premium price of those fuels is a heavy burden. With very small means, air lubrication can provide significant relief."
Indeed, the patented FluidicAL technology requires no structural modifications or vessel recertification, which makes it ideal for retrofitting as well as for newbuilds. Compatible with any vessel size and any fuel type, it comprises evenly spaced bands of oscillators under the vessel's hull. Using high-efficiency fluidics, each oscillator produces tens of thousands of microbubbles per second, creating a stable, uniform layer of air that significantly reduces friction between the hull and the water beneath.
Latest News
(Posted on 27/01/23)
ClassNK has issued an Approval in Principle (AiP) for a large ammonia fuelled 210,000 DWT bulk carrier... Read more
(Posted on 27/01/23)
Investors in middle aged dry bulk tonnage may be cheered by the impact of sustained higher recycled... Read more
(Posted on 27/01/23)
As one of the most important strategic maritime passages in the world, linking the Indian and Pacific... Read more
(Posted on 23/01/23)
OSM Maritime Group and Thome Group have agreed to a merger of the two companies. By joining forces,... Read more
(Posted on 23/01/23)
In a pivotal move aimed at further strengthening The Swedish Club's long-term position in the... Read more
(Posted on 16/01/23)
International crewing expert Danica Crewing Specialists now has a presence in Mumbai, boosting its recruitment... Read more
(Posted on 10/01/23)
Bahamas-based ship-management group Campbell Shipping has extended its relationship with Inmarsat, a... Read more
(Posted on 10/01/23)
AAL's scheduled monthly 'Asia to Australia West Coast Liner Service' (AUWC) recently... Read more
(Posted on 10/01/23)
Tindall Riley & Co Ltd./ the Managers of Britannia P&I announce that on 5 January 2023 it acquired... Read more
(Posted on 04/01/23)
The Swedish Club has welcomed in the New Year, when it formally greeted its incoming Managing Director... Read more