AISI updates six cold-formed steel design standards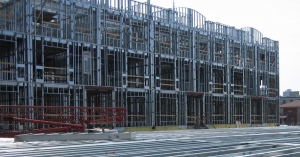 (Posted on 10/01/21)
The American Iron and Steel Institute (AISI) has updated six cold-formed steel design standards.
AISI serves as the voice of the American steel industry in the public policy arena and advances the case for steel in the marketplace as the preferred material of choice. AISI also plays a lead role in the development and application of new steels and steelmaking technology.
AISI is an accredited consensus organization by the American National Standards Institute (ANSI) for developing American National Standards (ANS). The task of creating and updating cold-formed steel design standards is accomplished through two voluntary consensus committees—the AISI Committee on Specifications and the AISI Committee on Framing Standards. The standards are available for free download at https://www.cfsei.org/free-aisi-standards.
"These updated standards have been approved by ANSI and adopted into the 2021 International Building Code," said Jay Larson, P.E., F.ASCE, managing director of AISI's Construction Technical Program. "They include the most up-to-date industry research and state-of-the-art practices and reflect significant changes that ensure steel's reliability and competitiveness with other materials in the construction market. We appreciate the work of all the researchers who helped expand the body of knowledge and the diligence of the members of the AISI Committee on Specifications and the AISI Committee on Framing Standards in considering proposed changes, reviewing comments, and refining the provisions of these important standards."
Latest News
(Posted on 28/01/22)
Glencore and Managem are pleased to announce that they have entered into a partnership to produce Cobalt... Read more
(Posted on 20/01/22)
Shalina Resources ("Shalina") and Chemaf SA ("Chemaf"), a leading vertically... Read more
(Posted on 15/01/22)
BHP has completed the sale to Glencore of its 33.3 per cent interest in Cerrejón, a non-operated... Read more
(Posted on 08/01/22)
Glencore and Evolution Mining Limited (Evolution) have closed the sale and purchase of Glencore&rsquo... Read more
(Posted on 20/12/21)
Rio Tinto has called for Expressions of Interest (EOI) from Western Australian manufacturers to build... Read more
(Posted on 20/12/21)
Rusal a leading global aluminium producer, opens the first phase of the world's most advanced... Read more
(Posted on 13/12/21)
Trafigura Group Pte. Ltd., one of the world's largest physical commodity trading companies, Nyrstar... Read more
(Posted on 07/12/21)
En+ Group, the world's largest producer of low carbon aluminium, has received confirmation from... Read more
(Posted on 30/11/21)
BHP's Chilean operations Escondida and Spence, and Olympic Dam in Australia, have been awarded... Read more
(Posted on 25/11/21)
Glencore and Evolution Mining Limited (Evolution) have entered into a binding agreement for the sale... Read more