AIC responds to Defra's urea consultation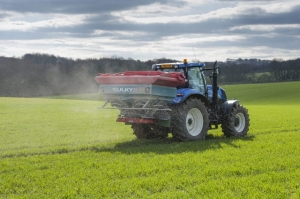 (Posted on 04/02/21)
The Agricultural Industries Confederation (AIC) in the UK believes that a ban on the sale and use of solid urea fertiliser is unwarranted. Instead, the agri-supply industry trade organisation has urged the Government to give the fertiliser sector the opportunity to reduce ammonia emissions through an industry-led commitment, based around the principles of Nitrogen Use Efficiency (NUE), which will involve demonstrating delivery through a combination of FACTS Qualified Advice and farm assurance auditing.
AIC is the UK trade association representing the agricultural supply chain sectors of Arable Marketing, Crop Protection and Agronomy, Feed, Fertiliser and Seeds, since its inception in 2003.
"This industry-led approach would have many advantages over banning a nitrogen source from use," says Robert Sheasby, AIC's Chief Executive. "With an end goal to achieve UK 2030 emissions targets, and mindful of all that livestock farmers will need to do on the manure management front, the fertiliser sector is stepping up to deliver its part in curbing ammonia emissions from urea-based fertilisers."
AIC and partners across the industry and food chain have committed to improving farm nutrient balance (notably for nitrogen and phosphorus) and NUE by 2030.
The partnership has agreed on joint ambitions for training, and how to define the big Key Performance Indicators for nutrient management, benchmarking current performance, and targeting change. It will proactively support change for agronomic good, driving down ammonia emissions, improving water quality and meeting net zero targets.
"We recognise that all fertiliser sources have their pros and cons, and that farmers and growers need the right products, for the right weather conditions, at the right time. This is where the fertiliser sector and all professional advisers are best placed to help. By supporting farmers to improve their overall crop NUE it's a win-win situation," adds Mr Sheasby.
While the industry awaits Defra's initial feedback on the urea consultation, AIC has requested that Ministers delay making any regulatory decisions affecting the use of solid urea on farms until the full recommendations of Defra's Nutrient Management Expert Group have been thoroughly considered.
Latest News
(Posted on 26/11/23)
ADM, a leader in sustainable agriculture supply chains, has announced an important expansion of its... Read more
(Posted on 17/11/23)
Trafigura, a market leader in the global commodities industry, has agreed to invest in an all-in-one... Read more
(Posted on 17/11/23)
ADM and Marathon Petroleum Corp. have celebrated the opening of their joint venture soybean processing... Read more
(Posted on 13/11/23)
Former U.S. Grains Council (USGC) Director of Global Programmes Alejandra Castillo was named the successor... Read more
(Posted on 13/11/23)
Rio Tinto has completed the acquisition of PanAmerican Silver's stake in Agua de la Falda and... Read more
(Posted on 05/11/23)
Cargill has completed an expansion and modernization project at its integrated soybean crush and refined... Read more
(Posted on 31/10/23)
BHP has approved an investment of US$4.9 billion (C$6.4 billion) for stage two of the Jansen potash... Read more
(Posted on 31/10/23)
Rio Tinto and cable solution provider Prysmian are partnering to build a more sustainable North American... Read more
(Posted on 26/10/23)
The American Soybean Association has applauded the U.S. Department of Agriculture's efforts to... Read more
(Posted on 26/10/23)
Rio Tinto has appointed James "Joc" O'Rourke as a non-executive director with effect... Read more