AIC chairs government and stakeholder talks on future for RED II assurance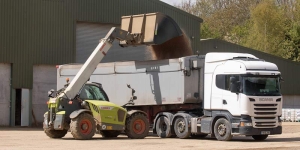 (Posted on 14/08/23)
The Agricultural Industries Confederation (AIC) has chaired a key meeting with the UK Government as it works with the industry to find a resolution to a European Commission (EC) decision which has the potential to affect UK biofuel exports.
AIC recently held talks with officials at the UK Department for Transport (DfT), Red Tractor Assurance (RTA), Scottish Quality Crops (SQC) and others as the industry progresses on finding a solution to the EC's intention to withdraw accreditation for UK-based RED II assurance schemes at the end of 2023.
The Commission says this is because it only recognises schemes accredited in EU member states, and the UK is now regarded as a third country since it left the EU.
The United Kingdom Accreditation Service (UKAS) accredits Renewable Energy Directive (RED) II assurance which currently allows companies to trade crops to the domestic and European bioenergy sector - a growing and important area of the UK economy.
AIC Services, RTA and SQC all operate assurance schemes which give their Members and Participants valuable access to the biofuels market.
AIC first told its Members and scheme Participants of the potential change on 18 July.
At last week's meeting, the government recognised the situation and committed to working with AIC and other stakeholders to achieve the best possible outcome for the industry.
Also included in the meeting were representatives of the Department of Environment, Food and Rural Affairs (Defra), the National Farmers Union (NFU), the Renewable Transport Fuel Association (RTFA), the Seed Crushers and Oil Processors Association (SCOPA), UKAS, and the UK Permanent Mission to the EU.
Click below to find out more about the four potential outcomes and other frequently asked questions.
AIC, RTA and SQC are meeting frequently to share information and updates as they collaborate on identifying and implementing a possible solution.
In recent days AIC has also held productive discussions with the European trade association COCERAL, as well as equivalent assurance schemes in some EU member states.
In addition, AIC joined an industry roundtable yesterday (7 August) to keep Members and stakeholders updated.
In a joint statement, AIC, Red Tractor and SQC said: "We have immediately called on the European Commission to continue to recognise UKAS and all that it represents through our schemes in the UK.
"The best-case scenario for all parties is that the Commission adopts this, and trading continues seamlessly. There are a number of alternatives that AIC, Red Tractor and SQC are also reviewing, all of which may be burdensome without tangible gain over the requirements already in place through voluntary schemes."
Latest News
(Posted on 26/09/23)
Vale has announced that it signed a MOU with the Port of Açu to study the development of a Mega... Read more
(Posted on 26/09/23)
The European Soy Monitor 2021 has been published, containing an overview of estimations on the use of... Read more
(Posted on 19/09/23)
BHP contributed $60 billion (AUD) in economic value to the Australian economy in the 2023 financial... Read more
(Posted on 19/09/23)
BHP contributed $60 billion (AUD) in economic value to the Australian economy in the 2023 financial... Read more
(Posted on 19/09/23)
Trafigura Group Pte Ltd. has announced an evolution of its executive team to further strengthen leadership... Read more
(Posted on 12/09/23)
The Food and Agricultural Organisation of the United Nations (FAO) forecast for global cereal production... Read more
(Posted on 08/09/23)
Rio Tinto has appointed Jérôme Pécresse to lead its Aluminium business, succeeding... Read more
(Posted on 04/09/23)
The Environmental Protection Agency (EPA) and the Army Corps in the USA have announced the final definition... Read more
(Posted on 28/08/23)
Despite the many and varied categories of cargo damage faced by shipowners transporting grain cargoes... Read more
(Posted on 28/08/23)
Rio Tinto and First Quantum Minerals have completed a transaction to form a joint venture that will... Read more